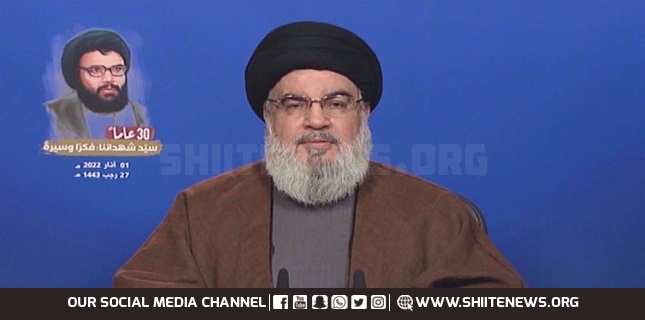 Secretary General of Lebanon's Hezbollah resistance movement Sayyed Hassan Nasrallah has warned that the Russia-Ukraine conflict can lead to repercussions that would be very dangerous to the whole world.
Nasrallah made the remarks in a televised address to a ceremony in commemoration of late influential Lebanese Shia cleric and co-founder of Hezbollah, Sayyed Abbas al-Moussawi, who was assassinated by Israeli military forces in an airborne attack in southern Lebanon on February 16, 1992.
"The events taking place between Ukraine and Russia are very dangerous for the whole world," the Hezbollah chief said, denouncing the double standards taken by Western states vis-à-vis the conflict.
"Western countries are doing everything against Russia except for direct combat. Today the world only respects the strong and it is has remained silent in the face of US violations," the Hezbollah leader pointed out.
'US to blame for Ukraine crisis'
He also criticized the international community's reaction to the Ukraine crisis and lambasted its apathy towards wars on Iraq, Afghanistan, Palestine, Syria, and Yemen.
"The United States is to blame for the crisis in Ukraine, as Washington had been inciting and working on this scenario for weeks," Nasrallah highlighted.
He underscored that the Russia-Ukraine conflict "is a lesson for those who trust and count on the United States."
"Washington has done everything to push for the current scenario. This is the fate of those who hand over their weapons, and rely on hollow guarantees," the Hezbollah chief said.
In a televised speech early on Thursday, Russian President Vladimir Putin announced a "special military operation" aimed at "demilitarization" of the Donetsk and Lugansk Republics in eastern Ukraine, collectively known as Donbas.
The two regions broke away from Ukraine in 2014 after refusing to recognize a Western-backed Ukrainian government that had overthrown a democratically-elected Russia-friendly administration.
Announcing the operation, Putin said the mission was aimed at "defending people who for eight years are suffering persecution and genocide by the Kiev regime."