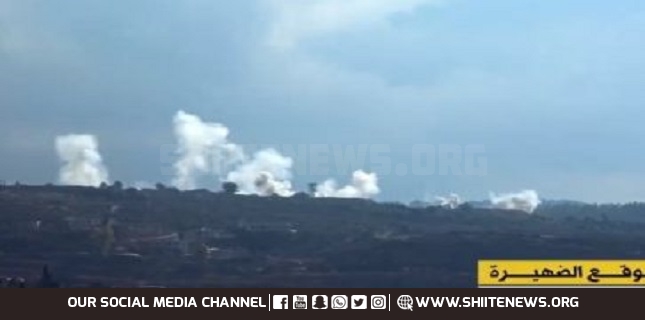 Hezbollah is going ahead with strikes against Israeli posts across the border between Lebanon and the occupied Palestinian territories for 42 days in a row.
The Islamic Resistance in Lebanon announced, in statement released by Hezbollah's Military Media Center, its fighters have staged seven strikes on several Israeli targets so far on Saturday.
The attacks have been "In support of our steadfast Palestinian people in the Gaza Strip and in solidarity with their brave and honorable resistance," the statements, obtained by Al-Manar read.
The first strike was before dawn, when Hezbollah fighters shot down an Israeli combat drone over Galilee Panhandle region.
Later at 09:30, the Islamic Resistance announced a strike with guided missile on Israeli border post of Hadb Al-Bustan, the statement read, adding that the attack caused direct casualties.
At 10:00, another strike targeted Al-Raheb post, the third statement for today read, without mentioning the nature of the weapons used.
Meanwhile at 10:00 on Saturday, other two strikes were announced by Hezbollah. The two attacks targeted gatherings of Israeli soldiers in Shtula and Khallet Warde, the fourth and the fifth statements read.
Shortly afterward, at 10:10, Hezbollah's Islamic Resistance fired missiles towards Sassa, where an Israeli military command headquarter was recently established. Confirmed casualties were reported, according to the sixth statement.
The seventh strike saw a number of missiles and projectiles being fired at Israeli Ramim Barracks in the occupied Lebanese town of Hounin at 13:00 on Saturday.
Meanwhile on Saturday, Al-Manar correspondents in several areas across south Lebanon, reported a number of Israeli attacks on Lebanese border towns.
The air strikes, as well as artillery fire, targeted Yaroun, Ayta Al-Shaab, Debl, Naqoura, Majdal Zoun, Labbouneh, Teir Harfa, Houla, Markaba, Blida, Bani Hayyan, Odeisseh, Sarbeen, Marwaheen and Maroun Al-Ras.
Earlier on Saturday, an Israeli strike targeted an aluminum plant near the southern village of Toul.
On the other hand, Hezbollah Military Media Center published a video showing some strikes by the Lebanese reisstance group on a number of Israeli posts a day earlier (Friday, November 17).
Hezbollah started its strikes on Israeli posts across the border with Lebanon on October 8, a day after the heroic Operation Al-Aqsa Flood that was followed by brutal ongoing aggression on Gaza. The strikes from Lebanon are in solidarity with the honorable people and resistance of Palestine, the resistance group in Lebanon says.