World
UN to world: Stop destruction of Iraq sites by ISIL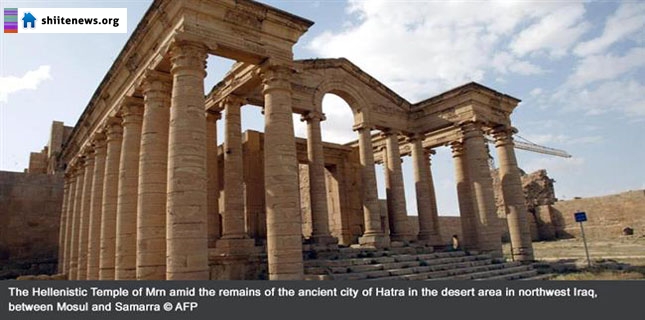 The United Nations chief has denounced the destruction of the Iraqi archaeological sites at the hands of the ISIL militants as "heinous", urging the international community to put an end to the "terrorist activity."
Ban Ki-moon made the comments on Sunday in reaction to the recent bulldozing of the 3,000-year old Assyrian city of Nimrud and smashing of artifacts in the Mosul museum by the ISIL militants.
The ISIL terrorists now have moved to raze the 2,000-year-old city of Hatra, located about 110 kilometers (70 miles) southwest of the militant-held city of Mosul, with reports saying that the Takfiris have demolished and looted artifacts at the ancient archeological site of Khorsabad in the northern part of the country.
"The secretary-general urgently calls on the international community to swiftly put a stop to such heinous terrorist activity and to counter the illicit traffic in cultural artifacts," Ban said in a statement from his spokesman.
"The deliberate destruction of our common cultural heritage constitutes a war crime," the UN secretary-general added.
Referring to reports on Hatra attack, he voiced "outrage" over the destruction, stressing that those behind the terror act must be brought to justice.
Khorsabad demolition
The ancient archaeological site of Khorsabad is the latest target of the ISIL terror group's campaign of violence.
The militants razed ancient ruins in the site on Sunday, Jumaa Abdullah, an official in the Antiquities Authority of the northern province of Nineveh, told German news agency DPA.
Baghdad has said that it is investigating reports about the attack on the site, situated 15 kilometers (9 miles) northeast of Mosul.
Saeed Mamuzini, a Kurdish official from Mosul, meanwhile, said that the terrorists had already started destroying Khorsabad on Sunday.
Khorsabad was built as an Assyrian capital by King Sargon II shortly after he took power in 721 BC.
The Takfiri terrorists have previously razed to the ground a number of mosques in Syria and Iraq, parts of which they control. The terrorists have also destroyed tombs belonging to revered Shia and Sunni figures.