World
Boko Haram kidnaps 20, kills 12 in Cameroon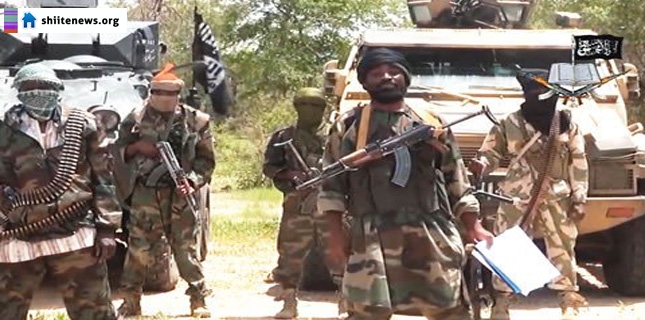 The Boko Haram Takfiri militants in Nigeria have stepped up attacks in neighboring countries, kidnapping 20 people in Cameroon and exploding a car bomb in Niger.
Security sources and residents said on Monday that the militants abducted 20 people aboard a bus in northern Cameroon and then killed 12 of them.
The kidnapping occurred on Sunday when the victims' bus came under attack in the town of Koza near the border with Nigeria.
The Takfiri militant group is known for carrying out deadly attacks in Nigeria since the beginning of its operations in 2009. However, launching assaults on people outside Nigeria is not very common.
In an attempt to rout the militants in Nigeria, neighboring nations of Niger, Chad, Cameroon, and Benin have decided to set up an 8,700-strong force to fight Boko Haram, prompting the Takfiri terrorists attacks in those countries.
Niger bombing
In a separate attack, a huge blast rocked a local market in the Nigerien town of Diffa about 3 pm local time.
The victims were taken to hospital after the attack whose toll was not immediately available.
"Everything blew up — I saw bodies everywhere," said a local merchant.
On Saturday, Diffa witnessed another bombing when an assailant, believed to be female, blew up her explosives in the town's pepper market that receives traders and customers from Nigeria and other regional nations. The attack reportedly left one dead and at least 10 others injured.
The assaults come as Nigerian officials hope that an underway multilateral offensive against Boko Haram would root out the Takfiris in a matter of six weeks.
Boko Haram new video
In a new 28-milutes video posted on YouTube, Boko Haram chief Abubakar Shekau played down the military efforts of West African leaders to battle the group, saying, "Your alliance will not achieve anything."
Boko Haram is reportedly estimated to have between 4,000 to 6,000 members and has managed to gain control of large swath of land in northeastern Nigeria.
"You send 7,000 troops? Why don't you send seven million? This is small. Only 7,000?" said the Boko Haram leader, threatening to crush the multinational force.
Boko Haram, whose name means "Western education is forbidden," says its goal is to overthrow the Nigerian government.