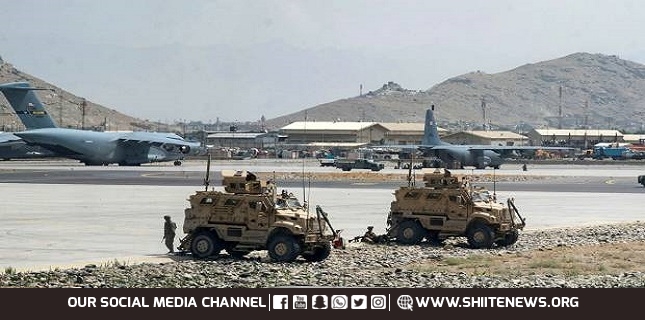 The US military has destroyed the final Central Intelligence Agency (CIA) base in Kabul, as it is preparing to leave Afghanistan after implementing a policy of death and destruction in the country for twenty years.
The New York Times reported on Friday that the CIA outpost, called Eagle Base, outside the Kabul airport was destroyed on Thursday, after a suicide attack on the Kabul airport claimed by Daesh killed at least 180 people, including 13 US service members — the deadliest for American forces in Afghanistan in over a decade.
A controlled detonation was reportedly used to blow up Eagle Base, where the US agency said it trained Afghan counterterrorism forces and intelligence agencies.
"They were an exceptional unit," said Mick Mulroy, a former CIA officer who served in Afghanistan.
"They were one of the primary means the Afghan government has used to keep the Taliban at bay over the last 20 years. They were the last ones fighting, and they took heavy casualties," he claimed.
Eagle Base had been used throughout the two-decade US war in the country. It grew from a small outpost to a sprawling center.
The report said that blowing up the Kabul base was meant to destroy equipment and documents in order to prevent them from falling into the Taliban's possession.
The Taliban are poised to run Afghanistan again 20 years after they were removed from power by American forces following the September 11, 2001 attacks on the United States.
The US invaded Afghanistan in October 2001 and removed the Taliban from power. American forces occupied the country for about two decades on the pretext of fighting against the Taliban. But as the US forces left Afghanistan, the Taliban stormed into Kabul, weakened by continued foreign occupation.
Americans at Kabul airport asked to 'leave immediately'
Meanwhile, the US embassy in the Afghan capital told Americans at the Kabul airport gates to "leave immediately," citing "security threats."
"US citizens who are at the Abbey gate, East gate, North gate or the New Ministry of Interior gate now should leave immediately," the embassy said in the alert posted on Friday night.
"Because of security threats at the Kabul airport, we continue to advise U.S. citizens to avoid traveling to the airport and to avoid airport gates," it added.
"As a general rule, we don't speak to intelligence, but this is a dynamic and volatile security situation on the ground," a State Department spokesperson told The Hill newspaper in an email Saturday.