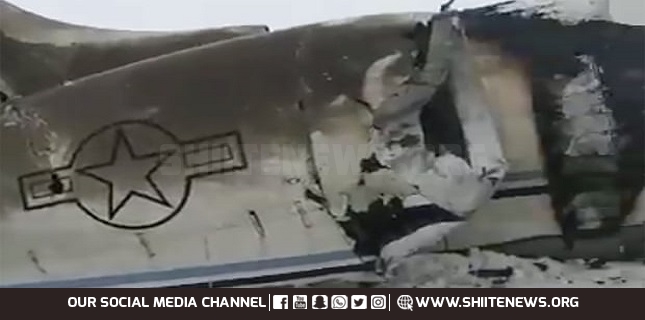 An aircraft has crashed in Afghanistan's eastern province of Ghazni, with Taliban militants claiming they have shot down a US forces plane in an area controlled largely by the militant group.
"An aircraft of American occupiers has crashed in Ghazni province," Taliban spokesman Zabihullah Mujahid said in a Pashto-language statement, adding that all the crewmembers on board have been killed, AFP reported.
Initially Afghan government officials suggested that a Boeing plane belonging to the Ariana Afghan Airlines had crashed and exploded into flames.
But shortly after news broke of the crash, Ariana Airlines Acting CEO Mirzakwal denied that one of the company's jetliners had went down.
"There has been an airline crash but it does not belong to Ariana because the two flights managed by Ariana today from Herat to Kabul and Herat to Delhi are safe," Mirzakwal was quoted by Reuters.
The Civil Aviation Authority of Afghanistan also denied reports that the plane was a commercial flight.
"According to our information from the Control Tower and Traffic Regulatory Authority, no commercial airline crash has been recorded. And Ariana Afghan Airlines have reassured us that all their planes are accounted for," read a statement by the organisation.
There is no information yet available on the number of passengers or crew.
The aircraft is said to have crashed in territory under the Taliban control and the militants were reportedly seen helping to put out the fire at the crash site.
Afghan special forces were headed to the site to investigate the incident
A senior official in Afghan President Ashraf Ghani's office was quoted by Reuters as saying that the plane had crashed near Ghazni province and authorities were still seeking details.
Before Mirzakwal's denial, Arif Noori, a spokesman for the provincial governor's office in Ghazni city, had said: "A Boeing plane belonging to the Ariana Afghan Airlines, has crashed in the Sado Khel area of Deh Yak district of Ghazni province around 1:10 p.m. local time (0840 GMT)," Reuters said, adding that it was not immediately able to contact Noori again.
Later on Monday, two officials from Ghazni province said the crashed aircraft appeared to belong to a foreign company, and not to state-owned Ariana Afghan Airlines.
"There is no exact information on casualties and name of the airline," Ghazni provincial governor Wahidullah Kaleemzai told TOLOnews.
Meanwhile, a senior defense official in Kabul said no U.S. or NATO forces' flight had crashed.
An AP report quoted the US military as saying that it is investigating reports of the airplane crash in Taliban-controlled territory in Afghanistan.
US Army Maj. Beth Riordan, a spokeswoman for U.S. Central Command, said it was not clear whose aircraft was involved in the crash, though she declined to immediately comment further.
Officials from the United States Air Forces Central Command (AFCENT) also declined to comment on the incident, but pictures on social media purportedly from the crash site showed what could be the remains of a Bombardier E-11A aircraft, which the US military uses for electronic surveillance over Afghanistan.