Pakistan
Federation of Shia seminaries demands lifting of ban on TJP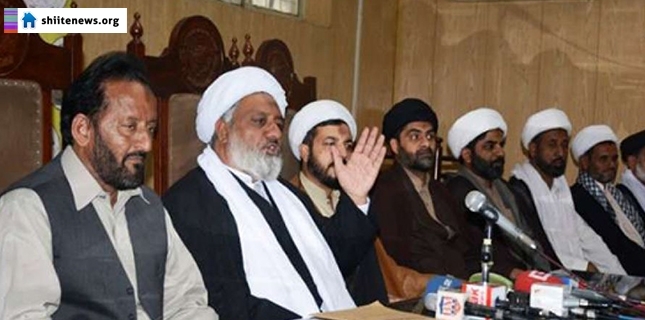 Wifaqul Madaris Shia Pakistan or Federation of religious seminaries of Shiites has demanded of the government to immediately lift the unjustifiable and illegal ban on Tehreek-e-Jafaria Pakistan (TJP) acting upon the Supreme Court's judgment in the TJP case in November 2014.
The demand was made at a meeting of the supreme council of Wifaqul Madaris that was held at Jamiatul Muntazir Lahore where Ayatollah Riaz Hussain Najafi chaired. Allama Sajid Naqvi, the head of the TJP and Islamic Tehreek Pakistan, Allama Sheikh Mohsin Ali Najafi, Allama Mohammad Hussain Najafi, Allama Razi Jafar Naqvi, Allama Niaz Naqvi, Allama Juma Asadi, Allama Afzal Haideri, Allama Fayyaz Naqvi, Allama Shahid Naqvi, Allama Shabbir Meessami and other members attended the supreme council meeting.
The Shia scholars defended the religious seminaries who are members of the alliance of federations of various sects of Islam saying that secular lobby should provide concrete proof of the involvement of seminaries in terrorist activities and hatemongering by any seminary. It is relevant to add here that the blame of terrorism was never leveled against Shia or Sunni Bralevi seminaries but some Deobandi seminaries have always come under probe for involvement in terrorism.
But, Shia clerics stressed on unity of Muslims on all Islamic issues. However, they said that if there was any proof of hate materials or provocative materials in the curricula of any seminary who is member of the Alliance of Religious Seminaries (Ittehad e Tanzeemat-e-Madaris-e-Deeniya), then they were ready to change that curriculum.
They also demanded that only terrorists and their facilitators should be punished under anti-terrorism laws. They demanded that Shia scholars and notables must be excluded from the lists of fourth schedule since they never remained involved in any sort of illegal activity, let alone terrorism. They demanded fair policy for Shia Muslims by bringing an end to ongoing discrimination and victimization under the unjust policy of balance aimed at equating them with terrorists.