Pakistan
PM Nawaz says terrorists hold Islam hostage for nefarious designs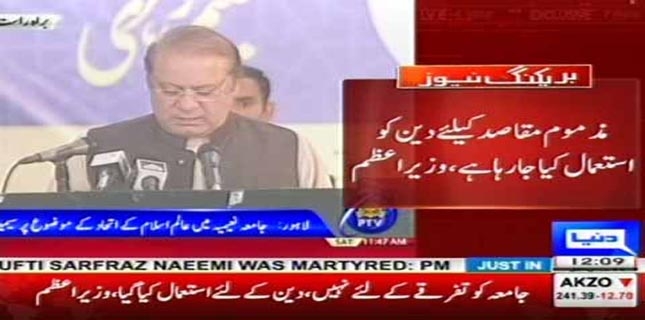 Prime Minister Nawaz Sharif said that it was not possible to eliminate and eradicate terrorism without the support of the Ulema in the country.
Addressing a seminar at Jamia Naeemia Lahore, the premier said that he felt spiritual contentment when he visited the place. He stated that those who had spilled blood at Jamia Naeemia could not be called Muslims.
"People have held religion hostage to secure their nefarious designs," said the Prime Minister. "The hands of the enemies have been broken just like the hands of Abu Lahab were broken," he added.
During his address, Nawaz Sharif promised that the few militants who remained would also meet their doom soon enough. He said that to promote militancy, religious justifications were sought which should be rejected by Ulema. Sharif said that the pure and holy image of Jihad had been distorted by terrorists.
Nawaz said that the roots of terrorism lay in extremism and stated that Ulema can reject the fatwas that are spread around in the name of religion. He said that it is their duty to display the truth of Islam in front of the general public.
He appreciated the role of the Ulema in raising their voices against sectarianism and racism.