Pakistan
Pakistan urges UN to take cognizance of India's war crimes in IIOJK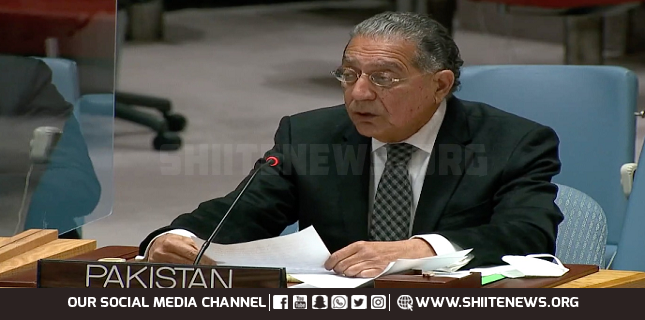 At the United Nations, Pakistan has called on the world body to take cognizance of the compelling evidence of India's war crimes in Indian Illegally Occupied Jammu and Kashmir (IIOJK).
Addressing the UN Security Council's meeting on Protection of Civilians in Armed Conflict Zones, Pakistan's permanent Ambassador to the United Nations, Munir Akram, stressed that the world body must hold accountable those Indian officials responsible for crimes and grave breaches of international humanitarian law.
Akram informed the House that Pakistan released a comprehensive, well-researched dossier last year containing troubling accounts, corroborated by audio and video evidence of 3,432 cases of war crimes perpetrated by senior officers of the Indian occupation forces since 1989.Ambassador Akram stated that India is currently using tyrannical measures to convert Kashmir's Muslim majority into a minority to change the demography of the territory.
He further reiterated that "India has martyred at least 96,000 Kashmiris since 1989 while fake encounters, destruction and burning of homes and properties, use of live ammunition against peaceful protesters, including pellet guns are order of the day in the territory".
A day earlier, Pakistan told a key UN panel that the situation in South Asia was deteriorating primarily because India's extremist regime had embarked on massive militarization, among other hostile actions in violation of international law and democratic principles.
Speaking in the Conference on Disarmament (CD), a single multilateral disarmament negotiating forum of the international community, Ambassador Khalil Hashmi, Pakistan's permanent representative to the UN offices in Geneva, said the New Delhi government was pursuing ideologically driven Hindutva and Hindu Rashtra policies; hegemony; unlawful actions and subversion in neighboring countries; and unprecedented acquisition, expansion and modernization of arms and delivery systems that are a threat to Pakistan.
At the same time, he reaffirmed Pakistan's desires and determination to pursue peace, development and strategic stability, including a peaceful neighborhood, based on sovereign equality and mutual respect. However, he warned that Pakistan could not remain oblivious to the evolving security dynamics in its immediate neighbourhood and would do whatever it takes to deter and defeat all forms of aggression.