Pakistan
MWM Karachi demonstration against Shia genocide in Gilgit, Karachi and Quetta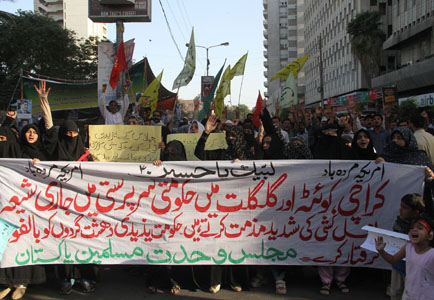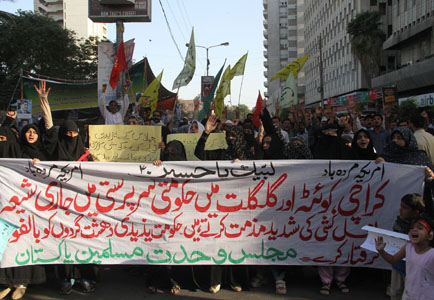 KARACHI- Majlis Wahdat-e-Muslameen (MWM) Karachi on Wednesday termed that US, Zionist regime Israel and terrorists of banned outfits were involved in the conspiracy to destabilize the country by killing the innocent people.
This was stated by the leaders of Majlis Wahdat-e-Muslameen (MWM) in a demonstration staged outside Karachi Press Club to condemn the target killings of Shia Muslims across Pakistan including Karachi, Quetta and Gilgit-Baltistan.
The speakers said that the U.S. and Zionist regime of Israel and terrorists toeing their agenda were involved in said genocide.
The protestors who also include a large number of women and children were raising slogans against the U.S. and Israel for murders of Asghar Jafri, Naseem Abbas, Sajid Hussain in Karachi, 11 innocent passengers in Chilas (Gilgit-Baltistan) and another 2 persons in Quetta during last 24 hours.
Maulana Mukhtar Hussain, Ali Ausat, Allama Aftab Haider Jafri, Maulana Imran Naqvi Mohammad Mehdi and Maulana Ali Anwar of the MWM spoke to the protestors.
The demonstrators lifted placards and banners inscribed with slogans such as: Down with incompetent government, Down with incompetent security agencies, and dismiss SSP Central Captain Asim. They also burnt U.S. flags to vent anger at the U.S. involvement in Shia genocide.
The MWM's office bearers demanded the government that terrorists be arrested and be punished and ban the renamed banned outfits. They warned that if demands were not met, they would stage sit in outside Chief Minister House and U.S. Consulate.
They said that SSP of District Central Police was a biased and pro-terrorists officer therefore he must be dismissed.
They said that during three months, more than 60 Shia notables and professionals were murdered in Karachi alone.
They said that 11 Shia passengers were martyred in Gilgit and dozens were abducted from buses. They said that all this was done to them during a failed strike called by a banned outfit that now works under a new name. They said that Gilgit was being made another Balochistan.
They warned that stability of Pakistan was put at stake. They said present policies are deleterious for Pakistan.
They also demanded that superior judiciary must take suo motu notice of all sorts of ongoing anti-Shia matters across Pakistan otherwise whole of country would witness similar fate.
End.