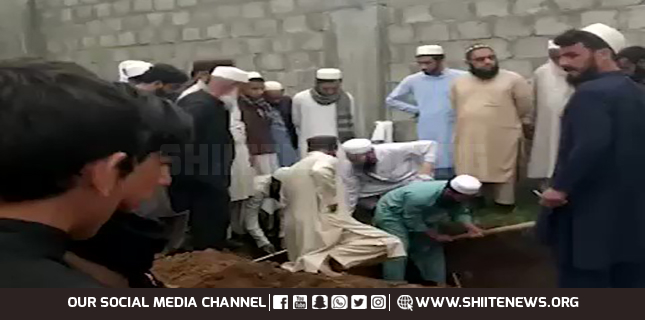 JUIF defy restrictions during funeral of Shah Abdul Aziz who died of Coronavirus in Mansehra.
People using social media highlighted the violation while expressing fear that such sort of defiance would spread deadly pandemic.
JUIF defy restrictions during funeral
They also posted video clips showing gathering of people during funeral.
In connection with precautionary measures in view of Coronavirus threat, district administration had imposed section 144.
Under that section, government banned gathering of people but Deobandi party JUIF's supporters violated law.
They gathered at funeral of Shah Abdul Aziz who died of CPVID-19.
JUIF leader Shah Abdul Aziz died of Coronavirus in Mansehra in Khyber Pakhtunkhwa on Tuesday.
The cleric Shah Abdul Aziz belonged to Deobandi party Jamiat Ulema-e-Islam-Fazl (JUI-F).
Mufti Kifayatullah confirmed the death of cleric Shah Abdul Aziz at the Ayub Medical Complex Hospital in Abbottabad. The cleric Kifayatullah serves as head of Mansehra district chapter of his party JUIF.
Earlier, Shah Abdul Aziz had gone to Quetta. On his return, he remained hospitalised at King Abdullah Teaching Hospital in Mansehra.
The hospital kept him quarantine ward after testing positive for coronavirus earlier this month.
However, he also isolated himself at his house for some time.
Later, JUIF's cleric was shifted to the Ayub Medical Complex in a critical condition on April 10, where he died on Tuesday.
With the death of the JUI-F leader, the Covid-19 death toll in Mansehra has risen to three.
Shah Abdul Aziz was also running a seminary. He had contested election for a Khyber Pakhtunkhwa Assembly seat from PK-34, but lost to the rival contender.
His father Syed Ghulam Nabi Shah was also a known Deobandi religious scholar and JUI-F leader.
Experts say that the Deobandi preaching party's majority comprise of elderly people, they remain relatively vulnerable to the deadly Coronavirus infection.
Spread of Coronavirus within the Deobandi preaching party or Tableeghi Jamaat's members vindicated the viewpoint of experts in this regard.