Lebonan
Firefighters put out fire at Lebanon Zahrani oil facility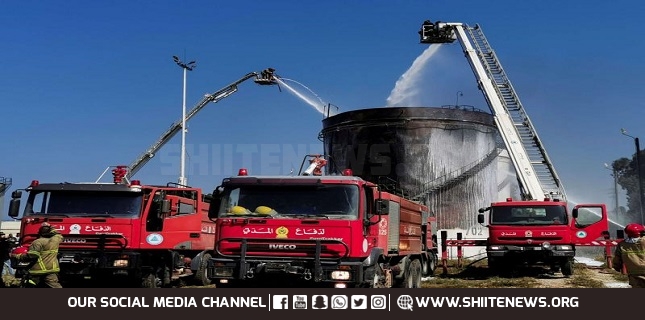 A massive fire that broke out at Lebanon's Zahrani oil facility in the south of the country has been extinguished with no casualties reported.
A vast fire erupted Monday morning at Zahrani oil installations as a gasoline tank caught fire.
Firefighters put out a blaze that raged for several hours at a gasoline storage tank in southern Lebanon on Monday, the latest blow to a nation grappling with crippling economic and fuel crises.
There were no reports of casualties in the fire at the Zahrani oil facility on the Mediterranean coast, which had sent a massive column of smoke into the sky.
Lebanon's energy minister Walid Fayyad said the blaze, which started just before 08:00 local time, "broke out during the process of transferring gasoline from one intermediate tank to another for delivery," National News Agency (NNA) reported.
The army was called in to help evacuate the area and divert traffic away from the plant while firefighters worked to control the blaze and stop it from spreading to other tanks at the facility.
The fire comes just days after the Zahrani plant and another critical facility in southern Lebanon, Deir Ammar, were forced to shut down because of a gasoline shortage.
Both plants run exclusively on gasoil. Lebanon's leading power provider Electricite du Liban (EDL), said the shutdown reduced the total power supply to below 270MW, which "directly affected the stability of the power network and led to its complete outage, with no possibility of resuming operations in the meantime."
Lebanon has been hit by a string of calamities, including the catastrophic chemicals explosion at Beirut port last year, which killed more than 200 people and devastated swathes of the city.