Lebonan
Israel on Alert after Hezbollah Fighter Martyrdom in Damascus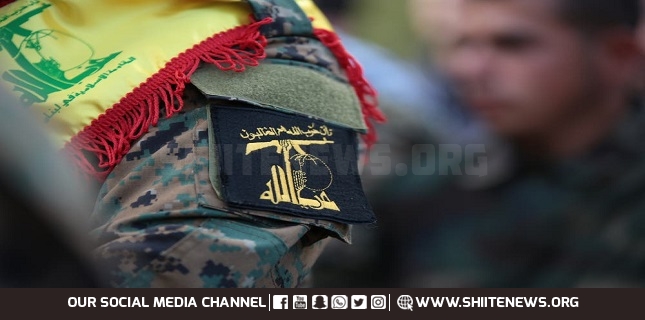 Zionist entity has been on alert since Tuesday after Hezbollah announced martyrdom of one of its fighters in an Israeli strike on southern Damascus late Monday.
Israeli Channel 12 that Israeli occupation army were on alert on the Zionist entity's northern border after the group announced in a statement martyrdom of Ali Kamel Mohsen who fell during an Israeli strike on Syria.
Maariv newspaper, late Tuesday, also expected retaliation by Hezbollah in the Zionist entity's north.
The Jerusalem Post followed up on pro-Resistance social media accounts, noting that as activists mourned the martyr, they vowed revenge against the Zionist entity.
The JPost's article was entitled: "Hezbollah threatens Israel after member killed in Syria."
For its part, Israeli Kan Channel reported an Israeli state of "fear of Hezbollah's response", following the organization's announcement that one of its operative was killed in Syria attack.
"If the equation set by (Hezbollah S.G. Sayyed Hasan) Nasrallah is still working, then Israel must be ready for Hezbollah's retaliation," Youness Zaatari, Lebanese activist who follow up on Israeli media quoted military correspondent of Kan Channel as saying.
The correspondent was referring to an equation set by Sayyed Nasrallah during a ceremony in January 2015 where Hezbollah was honoring six of his members who were martyred in an Israeli strike on Quneitra.
"From now on, when any Hezbollah cadre or fighter is killed, we will hold 'Israel' responsible, it will be our right to respond at any place and time and in any way we find it appropriate," Sayyed Nasrallah said in a speech on January 30, 2015.
Last year in August, two Hezbollah fighters were martyred in a strike on Syria. The strike was followed by a drone attack on a Hezbollah media office in Beirut's southern suburb (Dahiyeh). The Zionist entity back then stayed on alert for more than a week until Hezbollah staged retaliatory strike on Avivim base on September 1, 2019.
On Wednesday, Lebanese daily Al-Akhbar reported that Hezbollah Resistance groups raised level of readiness in a bid to monitor activity of Israeli occupation soldiers at the border between Lebanon and the occupied territories.