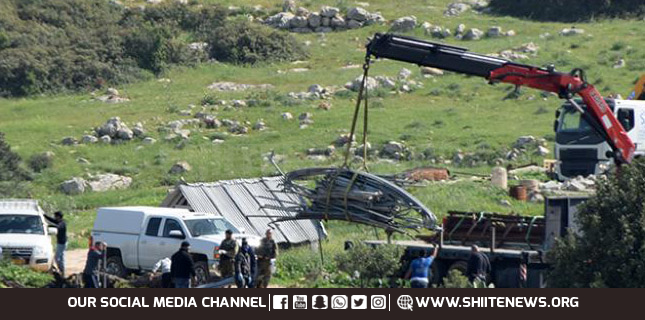 Some latest examples of illegal activities of US
World bears witness to the new cases of illegal activities of United Stated and Israel in Middle East.
However, both are hiding illegality by diverting attention through statements targeting national resistance groups and Iran regime.
Palestinian volunteers set up make-shift clinics in tents to help people amid Coronavirus threat. They did so in occupied East Jerusalem/West Bank and also in Jordan Valley.
Israeli staff took action against them, confiscated their tents and all belongings and also arrested volunteers.
Legally speaking, the entire Jerusalem and West Bank remain occupied territories. Israel is an illegal occupying power in these occupied parts of Palestine.
Under international law, the occupying power has to shoulder its responsibilities.
While Coronavirus pandemic poses threat to Palestinians in occupied territories, Israel has removed volunteers' medical camps.
They held makeshift clinics in collaboration with Palestinian Authority. Israel also recognized Palestinian Authority under Oslo Accords.
But it continues to violate both international law and also the Oslo Accords.
Plus, Israel has not lifted siege of Gaza strip despite Coronavirus cases in Palestine.
Israel has violated international law by intruding Lebanon repeatedly. The regime also violated sovereignty of Syria besides Lebanon.
United Nations and international community fail to take punitive measures to stop Israel from these violation and inhumanity.
Some latest examples of illegal activities of US
On the other hand, US Navy ship violated the sovereignty of Iran by intruding into Iranian territorial waters in Persian Gulf.
To ensure their naval defense, Iran's boats reacted but US hurled allegations against Iran.
Interestingly, Defence Minister Hatami of Iran reminded the U.S. that they have come from other side of the world and Iranian navy remains in their territory.
Earlier, Iraq has legally ordered United States and other foreign troops to leave the country but they damned care the legal demand.
U.S. continues to attack Iraqi groups who enjoy legitimacy as per Iraqi law. U.S. kills Iraqis who defended their homeland against enemies; especially the Daesh enemy.
Iraqi parliament's and government's formal order US to leave Iraq showed illegitimacy of US presence in that Arab Muslim country.
U.S. insistence on prolonging their stay against Iraqi nation's will vindicated the stance of Iran regime against U.S. presence.
Russia and China should take notice
Russia and China should take notice of illegal and illegitimate presence and attacks of U.S. and Israel on other sovereign nation-states.
At least they can lodge protest at United Nations Security Council and initiate legal action against illegal presence and attacks of U.S. and Israel.
Arabs/Muslims are dismayed over inaction against illegal activities of United States and Israel in international affairs. They want China and Russia to use UNSC, SCO, NAM, BRICS and other international forums to jointly prevent U.S. meddling into internal affairs of other sovereign nation-states.
M.S. Mehdi for Shiite News Exclusive