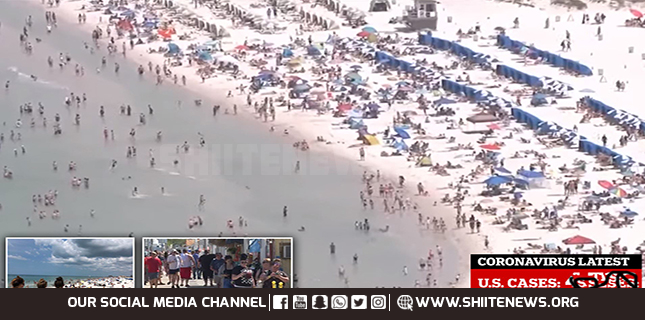 Coronavirus unmasks real face of the world which has disappointed the entire humanity.
Post-Coronavirus world remains an eye opener for the oppressed humanity and developing nations.
Coronavirus unmasks real face of the world
US-led bloc has played politics over Coronavirus. First, US President Donald Trump had slurred China calling it China virus and Kung Flu. Some called it Wuhan virus.
The US-funded Trumped Pakistani activists made every effort to portray Coronavirus an Iranian virus.
Followers of Saudi Wahhabism preached Al Arabiya narrative as though Coronavirus originated from Iran.
Factually, World Health Organization had already confirmed MERS Coronavirus (COVID) in Kingdom of Saudi Arabia since 2012.
US-led bloc misled world on the pandemic. They deflected public attention from facts. Their media coverage also distorted facts and overstated Iran situation.
As a matter of fact, Coronavirus first reported in China on January 10, 2020 and in US on January 21. Prior to Iran, Coronavirus cases also reported in Japan, South Korea, Italy, Spain, Germany, France, Thailand.
First case of Iran was reported on February 18, 2020. But Western and Saudi media and US-funded activists remained engaged in misleading the world as though only Iran was facing with this pandemic.
They sold Trump-Pompeo line against Iran. For instance, they ludicrously accused Iran of not taking timely precautionary and preventive measures.
Even mainstream media, let alone social media activists, had hurled malicious blames at Iran. They didn't spare even the Supreme Leader Ayatollah Seyyed Ali Khamenei.
Bundle of lies
But everything they disseminated proved nothing but bundle of lies because global statistics remain open to the entire world.
On March 29, 2020, United States remain world champion of Coronavirus pandemic surpassing Italy and China.
United States Centers for Disease Control and Prevention (CDC) reported cases in U.S. but numbers close out at 4 p.m. the day before reporting. (Accessed on March 29, 2020).
The CDC confirmed total cases 122,653 while total deaths 2,112 due to Coronavirus.
On the other hand, another source reported Italy had 97,689 total cases while 10,779 people had died of Coronavirus.
So far as deaths are concerned, Spain ranked second with 6,606 deaths whereas China ranked third with 3300 deaths.
It reported 2640 deaths in Iran, 2606 deaths in France, 2363 deaths in US and 1228 deaths in UK.
Interestingly, Iran is listed 7th in world ranking of total Coronavirus cases while the latest trends also showed more new cases and deaths in Italy, Spain, France, UK and US.
Compare Iran with US, Italy and Spain
Comparatively, rest of the world don't face US sanctions like Iran do. Iran cannot buy even needed medical equipment from abroad due to these US sanctions.
The entire world fear consequences because US blacklist companies over commercial ties with Iran.
But neither US, nor Italy, Spain or UK face such economic blockade. Plus, these countries are big powers of modern West, G-7 and NATO groupings.
The Trump administration and Pompeo-funded activists should now tell which sort of precautionary measures these countries adopted which Iran had not adopted!?
And why those measures of these advanced and developed countries could not bear the desired results. More cases and more deaths than that of Iran show that the US-led bloc wasted its energies on anti-Iran and anti-China propaganda instead of taking concrete steps.
But message from Iran had it that their regime and nation have unwavering faith in God and his last apostle and his pious Ahle Bayt. Hence, they fought Coronavirus amid the worst sort of US sanctions that compelled the entire world to stay away from Iran even in this time of need.
Even then, WHO country representative declared Iran a role model in fight against Coronavirus. Surprisingly, Iran did all this while it was lacking needed medical equipment. Iran lack access to needed medical equipment due to US sanctions and blackmailing.
Iran has minimized the losses through timely measures and coordinated efforts of the regime's officials.
Ayatollah Khamenei's leadership remain supreme
That means Grand Ayatollah Seyyed Ali Khamenei's leadership and guidance remain supreme as compared to the leadership of the US-led bloc.
Instead of misleading people through fake stories, US should lift inhuman sanctions while US-funded activists should demand lifting of US sanctions against in the larger interest of oppressed humanity.
Actually, Coronavirus has unmasked their real face that they are playing politics over this pandemic.
Ghulam Hussain for Shiite News Special 
How Coronavirus is spreading in Pakistan due to biased negligence