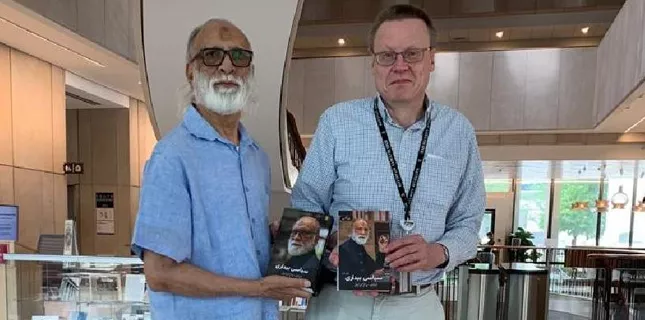 Shiite News: Chairman of Islamic Democratic Front (IDF), former Federal Minister of Education Syed Munir Hussain Gilani donated his autobiography 'Political Awakening' to the library of Harvard University.
He gave the book containing his memoirs to Leonard Levin, Assistant Director for the Library of the Medical School of the world old university, during a meeting in his office.
The said library is one of the largest libraries in the world, Leonard Levin, while thanking the former Federal Education Minister Munir Gilani for giving the book, said that political awareness will be helpful in understanding the 50-year political history of South Asia, especially Pakistan.
He said Munir Gilani's book is the best research, which will be used as a reference book because Munir Geelani worked with founder of People's Party, Zulfikar Ali Bhutto, his daughter Shaheed Benazir Bhutto, father of democracy Nawabzada Nasrullah Khan late, Mufti Jafar Hussain, Allama Arif Hussain Al Hussaini and Allama Sajid Ali Naqvi for democratic and civil rights.
He played an active role in the struggle, is an excellent addition to the reference section of our library and hope that students will benefit from this book.
He said that the book Political Awareness has been written after a lot of research. Munir Gilani's life is not hidden from anyone. He has not only been the Minister of Education of Pakistan, he is undoubtedly a great politician and intellectual, his writings inform the situation in Pakistan and around the world.
Speaking on this occasion, Syed Munir Hussain Gilani said that his book will be used as a reference book in Harvard University Library.
It is an honor to have 'Political Awareness' in the world's famous and oldest university, that his autobiography will be available in a good library network so that future generations will be aware of the political situation.