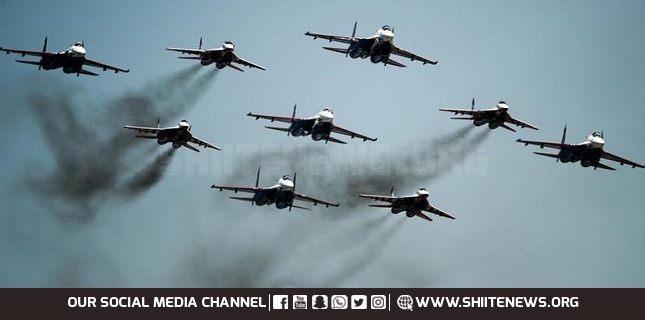 Russia has tested its air defenses in the Crimean Peninsula, as Ukraine, the US, and their NATO allies kicked off war games in the strategic waters of the Black Sea.
As the maneuvers began on Monday, Russia deployed around 20 warplanes and helicopters in the peninsula, the Interfax news agency reported on Tuesday.
Russian Su-24M bombers and S-400 and Pantsir surface-to-air missile systems were part of the deployment, the agency said.
"The Black Sea Fleet is doing a number of things to monitor the actions of ships from NATO and other countries taking part in Sea Breeze 2021," Interfax quoted the National Defense Management Center as saying in a statement, referring to war games by NATO countries and Ukraine in the Black Sea and southern Ukraine.
Those drills involve more than 30 countries, and will last for two weeks. About 5,000 military personnel from NATO and around 30 ships and 40 aircraft are taking part. The US missile destroyer USS Ross and the US Marine Corps are attending as well.
Russia, which has called for the drills to be canceled, has said it will act to protect its national security if necessary. The Russian Embassy in Washington warned that the maneuvers "increase the risk of unintentional incidents" and "encourage militaristic sentiments in Kiev."
Crimea declared independence from Ukraine in March 2014, and formally applied to become part of Russia, following a referendum. That sparked tensions between Kiev and the West on the one side and Russia on the other.
Russia said last week that it had fired warning shots and dropped bombs in the path of a British warship to chase it out of Black Sea waters off the coast of Crimea.
Britain began deploying naval assets to the Black Sea in the spring to apply pressure on Russia and signal solidarity with Ukraine.