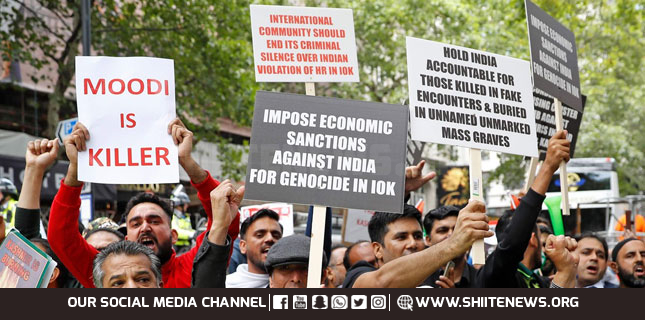 Pro-Kashmir protests in London has angered Indian Prime Minister Narendra Modi to the extent that he spoke to British counterpart on the issue.In his telephone call with British PM Boris Johnson yesterday, he expressed displeasure over protest for Kashmir outside Indian high commission.
Notably, he accused vested interests of pursuing their agenda through violent means.
Most importantly, New Delhi's decision to strip occupied Kashmir of its special status has evoked worldwide condemnation.
Read this: Pro Kashmir protesters face legal action in Bahrain for rally
In addition, pro-Kashmiri people also staged protest for Kashmir demos outside the Indian high commission in London.
India's Independence Day also saw protest demo of thousands of people, many waving Pakistani and Kashmiri flags, Indian HC.
Surprisingly, Modi's supporters and members of his ruling Bharatiya Janata Party (BJP) blamed demonstrators for attack on Indian women and children.
However, it seems Modi and his BJP are trying their best to hoodwink the world. Otherwise, no alleged violence can match Modi government's brutalities in occupied Kashmir.
London protesters' alleged throwing of bottles!? India has stripped Kashmir of its representation right and has violated international law. Furthermore, India has turned valley of Kashmir into an open air jail and the worst sort of torture cell.
Hence came the protest outside high commission in London. India must stop its unilateral and unjustifiable actions and atrocities in IOK. Modi or BJP must not cry foul over reaction.