Saudi Arab
US Republican Congressmen meet Saudi king after Israel visit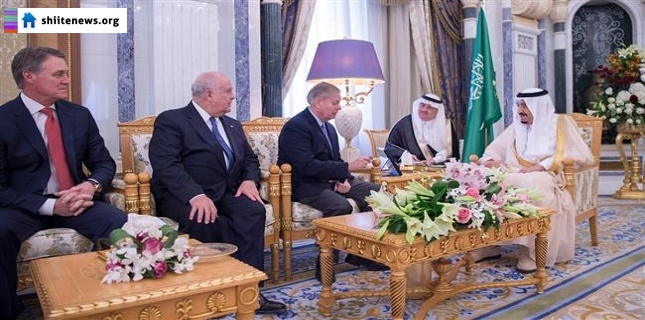 Saudi King Salman bin Abdulaziz Al Saud has met with a number of US Republican Congressmen a day after the six-member delegation held a meeting with Israeli Prime Minister Benjamin Netanyahu.
Sen. Lindsey Graham of South Carolina headed the US delegation that also included Congressmen David Jolly of Florida, Adam Kinzinger of Illinois and Tom Rice of South Carolina, as well as Senators Thom Tillis of North Carolina and David Perdue of Georgia.
The Thursday meeting in the capital Riyadh was also attended by other senior Saudi officials, including Foreign Minister Adel al-Jubeir, as well as US Ambassador Joseph W. Westphal.
The US delegation also held a separate meeting with Deputy Crown Prince and Defense Minister Mohammed bin Salman Al Saud to discuss bilateral relations and "a number of issues of mutual interest," the Saudi Press Agency reported without disclosing further details.
The meetings come 10 days after a similar visit by four other US senators and ahead of US President Barack Obama's scheduled trip to Saudi Arabia on April 21 for a summit with King Salman and heads of state from other Persian Gulf Arab countries – Qatar, Kuwait, the United Arab Emirates, Bahrain and Oman.
April's summit follows one the US president hosted last May at Camp David, which was skipped by several heads of state, including the Saudi monarch and the Bahraini king. Nuclear talks between Iran and the P5+1 countries — the US, Britain, Russia, China, France and Germany — and the crisis in Syria and Yemen were high on the agenda at last year's summit.