Saudi Arab
Bahraini F16 Fighter Jet Crashes in Jizan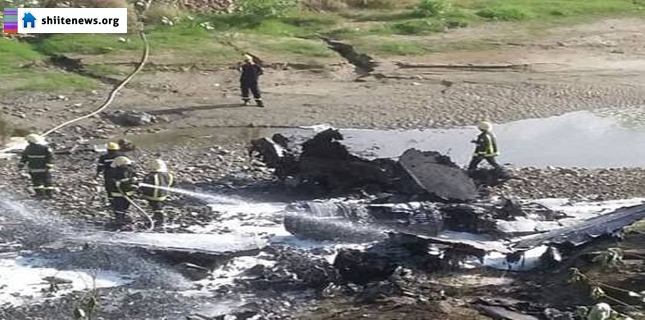 A Saudi-led F16 fighter jet crashed in the Saudi border area with Yemen on Wednesday, Yemeni sources as well as Saudi media reported.
Yemen-based Al-Massira TV quoted Yemeni sources as saying that the jet crashed in Fifa area that borders Yemeni province Saada.
The incident took place as the Yemeni army and the popular committees intensify their attacks on the Saudi posts in the area, in retaliation for the Saudi-led brutal aggression against the Arab impoverished country.
Meanwhile, Saudi media reported that Bahraini F-16 fighter jet crashed in Saudi Arabia on Wednesday, claiming that the cause was a "technical glitch."
Al-Riyadh daily said that the captain survived and was rushed to a nearby hospital, before being moved to Saudi Arabia's Armed Forces Hospital.
On the other hand, Bahrain Defence Force (BDF) has confirmed that an F16 fighter from the Royal Bahraini Air Force crashed on Wednesday morning near the Saudi southern borders.
"The fighter jet crashed while undertaking the national duty of defending the Kingdom of Saudi Arabia (KSA)'s southern borders as part of the Saudi-led Arab Coalition's Operation Decisive Storm and Operation Restore Hope," the BDF General Command said in a statement carried by Bahrain News Agency (BNA).
"The pilot has been rescued and he is in good condition and the debris of the aircraft is under the control of the Arab coalition forces. Investigations are underway to determine the cause of the incident," the statement said.
Bahrain is part of the Saudi-led coalition which has been since March launching a military aggression on Yemen.
Earlier on Tuesday, Bahrain acknowledged that three of its soldiers were killed in Yemen.
Yemen has been since March 26 under brutal aggression by Saudi-led coalition.
Thousands have been martyred and injured in the attack, with the vast majority of them are civilians.
Riyadh launched the attack on Yemen in a bid to restore power to fugitive president Abd Rabbu Mansour Hadi who is a close ally to Saudi Arabia.
However, Yemeni army, backed by the committees has been engaged in battles with Saudi-led mercenaries and Hadi's militias in several areas across the country.