Pakistan
Sit in against enforced disappearance of Shia Muslims enters sixth day in Karachi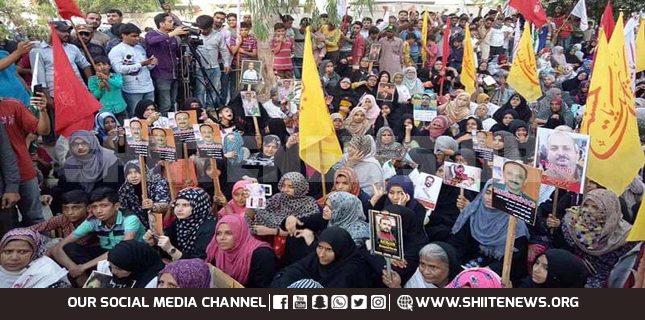 Sit in against enforced disappearance of Shia Muslims enters sixth day (Friday) in Karachi where relatives of missing persons continued their protest outside President Dr Arif Alvi's house in Karachi.
The members of the families, including grandparents, minor children and babies, are sitting to register protest against enforced disappearance.
The families demand that the biased and rogue personnel responsible for enforced disappearance must be held accountable.
Affected families make legitimate demand
First of all, they demand immediate release of their bread-earners.
Furthermore, they condemned what they said economic genocide of peaceful Shia community through biased witch-hunt.
Shia community worldwide solidarity with missing persons' families
Shia Missing Persons Committee leader
Rashid Rizvi, leader of Shia Missing Persons Release Committee, said that at least 66 innocent Shia Muslims have fallen to enforced disappearance.
He said that out of the said total, 47 Shia Muslims are from Karachi.
Daughter asks Prime Minister Imran to ensure release of Mumtaz Rizvi
Rizvi said that cops took away some of them as recently as two months ago while they kept whereabouts of others unknown for the past five years
Families of missing Shias protest outside Karachi Press Club
He said the families also demand accoutability of the biased and rogue personnel responsible for enforced disappearance.
Certainly, Shia Muslims are expressing genuine concerns against unjustifiable discrimination and witch-hunt. They demand an end to their marginalisation.
Most importantly, they have to point to the fact that Shia Muslim Mohammad Ali Jinnah led Muslims of sub continent to win freedom. They are dismayed over injustices in the country, they founded and that has a Shia father of the entire nation.
More from ShiiiteNews:
MWM asks all to come out on Friday to support sit in protest against enforced disappearance
Allama Shahenshah Naqvi rejects release of terrorists involved in Shia genocide
Prominent scholars demand release of illegally detained Shia Muslims
Sit in protest against enforced disappearance of Shias across Pakistan soon