Pakistan
Shia missing persons' families stage sit in outside President Alvi's House in Karachi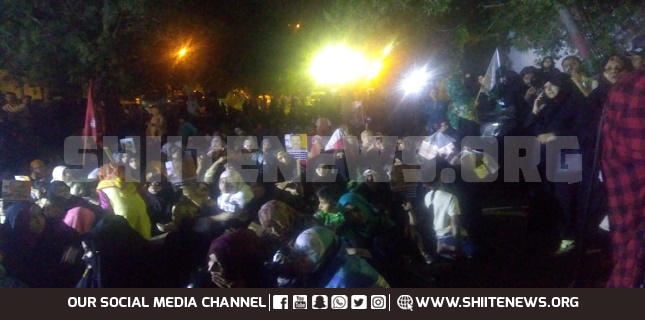 Families of Shia missing persons have begun staging sit-in outside Karachi residence of President of Pakistan Dr Arif Alvi that is nowadays enjoy the official status of Presidential camp office.
The families and the community members first gathered at Rizvia Imam Bargah today on Sunday. Then, they reached Presidential camp office.
Latest reports from the spot had it large crowd of families of missing persons participating in the protest.
The protesters were carrying portraits of missing persons. This term is being used in Pakistan for those subjected to enforced disappearance.
Elderly grandmothers, children, women, youths, all age group people are protesting and the rest of the community and supporters are expressing solidarity with them.
Emotions are high. They have announced to continue to sit there till the President of Pakistan address this issue.
The Shia Missing Persons Release Committee leader Rashid Rizvi said that President Arif Alvi must listen to genuine demand of the families.
He denounced restrictions on media coverage of the sit-in.
The families have appealed to the government, polity, security agencies and the media to consider the Shia victims of enforced disappearance abducted as their own sons and brothers.
They urged all to ask themselves where would they be today: at home or at the sit-in protest if their family members would have been subjected to enforced disappearance.
They have appealed to Ulema to come forward to shoulder their responsibility.