Pakistan
Two attacks on Imam Bargahs and Shia Muslims in Karachi go unnoticed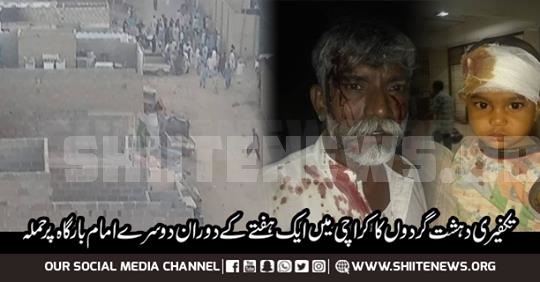 Terrorists have attacked two Imam Bargahs in Karachi where they also injured a Shia Muslim notable and a minor child but unfortunately police and government have failed to punish known terrorists.
Imam Bargah (Bibi) Zainab (AS) is a sacred place in North Karachi & D near Andah Morh where Shia women attend religious congregations. Terrorists stormed into that Imam Bargah and desecrated Imam Bargah. They also attacked Shiites there due to which an aged Shia notable and a minor child were injured.
Takfiri terrorists threatened custodian of Imam Bargah to remove the sacred alam (flag) from Imam Bargah otherwise they would assassinate him and incinerate the entire Imam Bargah.
Earlier, the terrorists have barged into Masjid and Imam Bargah Salman Farsi in Steel Town Karachi where they desecrated Holy Quran by tearing it and also damaged pulpit.
Pakistani nation continues to condemn banned terror outfits of takfiri Wahhabi/takfiri Deobandi who have caused colossal human loss of 70,000 innocent Pakistanis and $ 125 billion financial losses under the influence of Saudi Wahhabism.