Pakistan
Shia & Sunni leaders opposed the decision to send Pakistan Army troops in Yemen to protect Saudi Agenda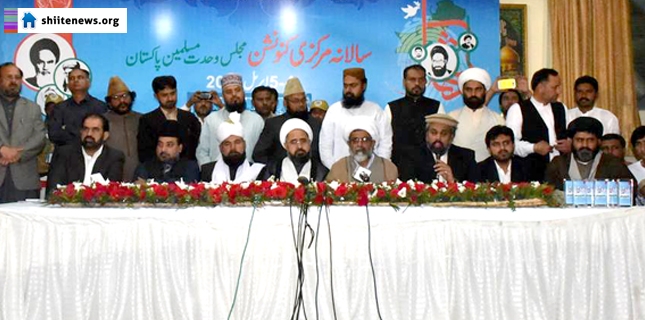 A Seminar was held by Majlis-e-Wadat-ul-Muslimeen Pakistan with the title "Invasion of Saudia on Yemen, Zarb-e-Azb and Pakistan" presided by Leader of MWM Pakistan Allama Nasir Abbas Jafri.
The officials in the seminar included Pakistan Awami Tehreek's President Dr. Raheeq Abbasi, Sunni Ittehad Council's Chairman Sahibzada Hamid Raza, Jamiat Ulema Pakistan Niazi Group's Leader Peer Masoom Shah and Imamia Organization Pakistan's Chairman Laal Mahdi Khan.
In a speech by Secretary General MWM Allama Nasir Abbas Jafri said that our nation has been presented with 80 thousand dead and Zarb-e-Azb is to cater this cancer. The sacrifices made by our military and nation is the aftermath of post-afghan war. We cannot sit aside and put the nation at task by inflicting another war. Exporters of Terrorism to the middle-east are reaping what they sow. We stand against all atrocities irrespective for muslim or non-muslim ummah. We have never challenged the rit of the state though our brothers have been slain in numbers.
In a joint news conference Allama Nasir Abbas said that we consider any armed conflict as haram rather believe in a peaceful revolt. He said that Pakistan should not be part of Yemen. We should play our part in order to resolve conflict between muslims. Putting Pakistan in front of our motives.
MWM's Central Deputy Secretary Allama Amin Shaheedi said that politician are taking the state to the mire. Yemens crisis is a conspiracy of few world denominators. House of Saud's is cutting the roots of theists under the pretense of monotheism. They have brought Takfir as a factor to this scene. The world stands divided into two blocks, one defending and in favor Israel while the other against. America, Israel and Saudi Arabia stand as a unit destroying the people in the region. ISIS/ISIL stands as their child.
Pakistan Awami Tehreek's president Raheeq Abbasi said that Saudi Arabia doesnot represent Ahl-e-Sunnah anywhere instead Iran, though shia, stands as a legitimate embody of Islam in World. The fight for democracy in Yemen cannot be fought by a Saudi Monarch Regime. Pakistan was left alone to fight its own wars, instead Sharif family was helped through and through by the Saudi Royalty. They aided them to clutch governing this nation again. Lest Yemen were should not take part in any war.
Sunni Ittehad Council's Chairman Sahibzada Hamid Raza said that United Nations shouldn't have double standards. They exported militants in Syria rebelling against the legitimate government terming them Freedom Fighters whereas revolting masses in Yemen are considered traitors, massacring them in broad daylight. The invasion of Saudi Arab has affirmed that it has nothing to do with muslim-interest. We will not let our troops be part of a proxy war in the middle east. By the Grace of Almighty, there's no threat to Harmain Sharifain (Mecca/Medina). Muslims of Yemen bear more respect for Harmain than the people of Saudi Arabia. He added that Nawaz Sharif should put the Proud Military at task for favors bestowed on him by the Sauds. We reject the idea of a mass murder of muslims by sending our troops, which stand as a hope for the Muslim World.
Chairman Imamia Organization pakistan, Laal Mehdi Khan said that when there are atrocities in a nation and their rights are curbed, masses take to the streets. In the latest unfolding in Yemen one has to consider who has usurped who. We have no business in an incursion over a nation, for it might bring about adverse affects.
President Jamiat Ulema Islam Niazi Group, Peer Masson Shah Naqvi addressing the seminar said, Saudi is distressed over Irans' triumph. Those who have invaded Yemen stand terrorists not the people. Terrorists are not sunni, nor they wear labels though they do utter that they are. We stand by our Shi'ite brethren. Parties considering Taliban as their child are traumatized by the successful operation 'Zarb-e-Azb'. Taliban are the ones who not only desecrated the tombs of progeny of Muhammad (SAWW) but as well of "Awliya", one whose dear to God.