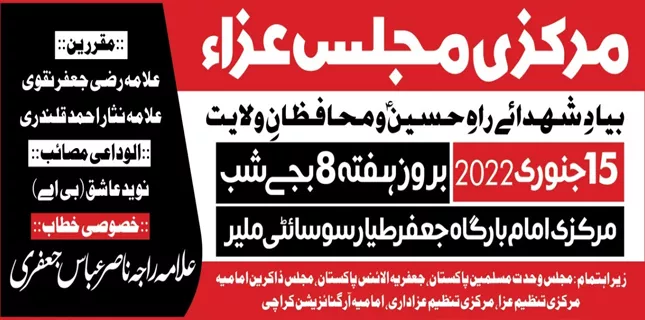 Shiite News: The Main Majlis in the memory of Martyrs of the Hussaini path and defense of Willayah will be held at Markazi Masjid, Jaffer-e-Tayyar Society, Karachi, on 15 January 2022. On this occasion, the head of MWM Pakistan, Allama Raja Nasir Abbas Jafferi deliver a special speech while other authentic scholars including Allama Syed Razi Jaffer Naqvi, Allama Nisar Ahmed Qalandari, Naveed Ashiq B.A. (of Lahore) will address also the Majlis.
According to details, the Majlis will be held under the aegis of MWM, Jafferia Alliance Pakistan, Majlis Zakireen Imamia Karachi, Markazi Tanzeem-e-Azadari, Imamia Organization Pakistan.
In this Majlis, renowned poets and nohakhawan along with their anjumans will pay homage to the Martyrs in their traditional style while there will be separate arrangements for ladies.