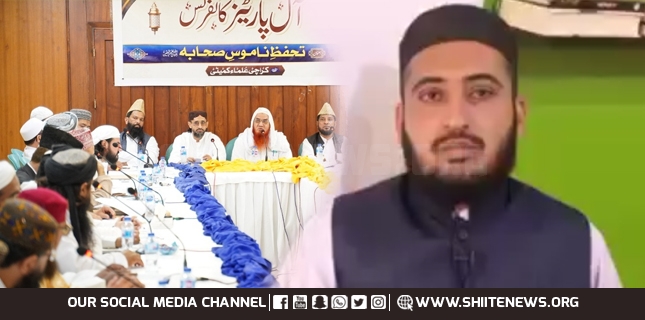 Shiite News: A young Ahle Sunnah Mufti Fazal Hamdard viral a video on social media that Ameer Mavia had never been included in Sunni dignitaries. He added that in future pro Mavia lobby in Islam could emphasize Yazid in noble personalities. Once again conspiracy of Shia Sunni riot is in society and deplorable combination of Takfeeri elements seek to put peace of Pakistan in danger.
According to details a young Ahle Sunnah Mufti Fazal Hamdard has unveiled deplorable campaign to include Yazid (L) and his tribe Banu Ummayah (May Allah curse upon them) in Islamic dignitaries.
In the view of historic facts and traditions he of the opinion that Ameer Mavia had never been included in Islamic dignitaries and said trend was being set to include Yazid(L) in noble figures of Islam in future. He further said some miscreants were running Pro Banu Ummayah campaign to declare Shia majority as a minority. He denounced that conference which held in Karachi to openly to declare Shia Community as infidel openly and also demanded government to take notice of said illegal conference.
He reiterated that participants of said deplorable conference used to call infidel to each other, avoid offer prayer behind each other but nowadays gathering on one table to declare Shia community infidel.
He stated that declaring Ali un Waliullah terrorism would Blasphemy of Ahle Bayt (Rizwanullah Alaihim Ajmaeen).