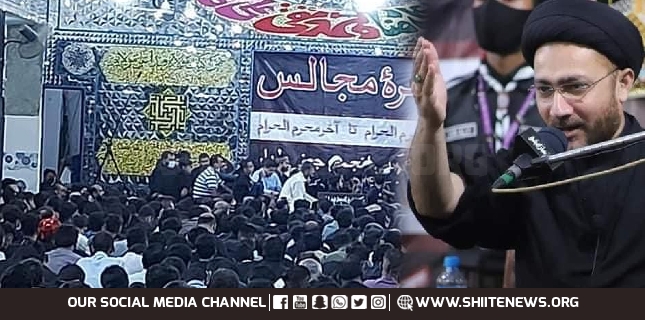 Shiite News: This year Mourners will break attendance record of Asia on 40th day commemoration of Imam Hussain (AS)'s Martyrdom as they broke 70 years record of attendance on Arbaeen-e-Imam (AS) last year. This announcement was made by world renowned Shia Scholar and prominent flag bearer of interfaith harmony, Allama Syed Shahanshah Hussain Naqvi while addressing a highly attended mourn gathering at Markazi Imambargah, Ghazi Abbas Turst, Malir, Jaffer-e-Tayyar, Karachi on the occasion of Martyr Anniversary of Imam Zain Al Abideen (ASO
He suggested Jafferia Nation of Pakistan to prepare for Arbaeen Imam Hussain (AS) in due dignified manners of Azadari-e-Syed-us-Shuhdaa (AS). He says, it is prime our responsibility to remind existing Yazidi in Pakistan that beloved homeland is reward of sacrifices of our dignified ancestors.
He further said while denouncing recent lawless FIR culture in Pakistan that we will not keep quite on prevailing injustice. He also appealed elderly Imamia Ulema to guide for compromise on this issue or not.
On FIR lodged against him in Lahore, he said that we will announce further strategy on said issue in next my mourn gathering. He once again made it clear that we should not bow our knees towards such ridiculous measures to stop Azadari-e-Aba-Abdullah Al Hussain (AS) even at the cost our last drop of blood.