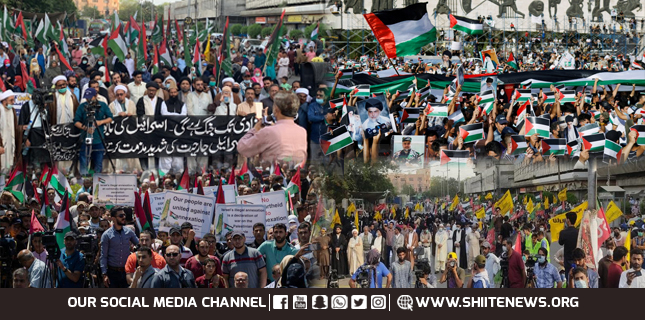 Shiite News: The provocation of the Muslim Ummah against the Israeli aggression on the unarmed Palestinian Muslims and the desecration of the first Qibla is constantly increasing. The scope of hatred and protest against Israel has spread all over the world, including Pakistan. Shia-Sunni organizations in Pakistan have been staging a series of protests, rallies and demonstrations in various cities and towns of the country for a week. A protest rally was also held in the federal capital of Pakistan, Islamabad In which a large number of people participated.
On the other hand, Muslim and non-Muslim people in various states of European countries, the United States and Canada are also protesting against Israeli oppression and tyranny. Thousands of people marched on the Israeli embassy in London during a demonstration in London against Israeli atrocities in Gaza. Anti-Israel rallies were also held in many cities around the world, including the United States, France, Germany, Spain, South Africa, Belgium, Ankara, Tehran, Damascus, Baghdad and Lebanon.
It should be noted that the governments of Germany and France have imposed a complete ban on pro-Palestinian and anti-Israel protests. Police in both countries have been instructed to spot the protesters and arrest them immediately, according to sources in Germany and France. Hundreds of protesters have been arrested so far.
The Pakistani government has apparently not obstructed the protests in favor of Palestine, however, the Pakistani government has only expressed verbal support, while so far it has not announced any defense assistance to the oppressed people of Palestine.