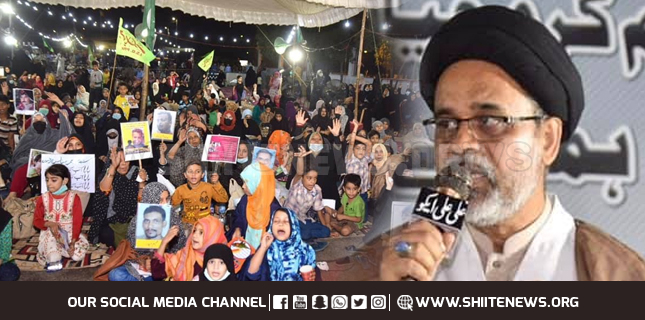 Shiitenews: The central leader of Joint action committe for shia missing persons Moulana Haider Abbas Abdi says addressing the sit-in at Mazar e Quaid that the procession of Youm e Ali A.S on 21st Ramadan will turn to peacefull protest. We will sit-in peacefully on Friday, Saturday and Sunday and we will protest with the childs of shia missing persons infront of governor house.
He concluded that "In the State of Madina the families are begging for the recovery of there beloveds.The Supreme Court, Sindh High Court and others daily demands from institutions to recover the missing persons."
Moulana Haider Abbas added that " The patriots are missing from all over the country, We will continue our sit-in protest till the recovery of our missing persons. President and Prime Minister of Pakistan should tell that where are these and who is responsible for them."
He announced to sit-in on Friday,Saturday and Sunday peacefully and he said that "we will protest in this holy month of Ramadan according to the critical condition of country and for the recovery of our beloveds we will protest in front of President house."
Allama Ahmad Iqbal Rizvi said that "For the recovery of shia missing persons we will call the public for protest and if they were not recovered we will turn the processions of 21st Ramadan into heavy protests its our right by law and constitution of Pakistan. The responsibility of present condition of Pakistan is on the government.