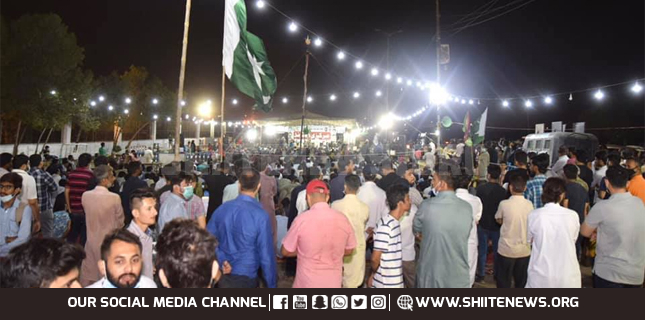 Families continue sit in protest outside mausoleum of founder of Pakistan Mohammad Ali Jinnah on tenth consecutive day (Sunday).
Supporters of these families are holding protest sit-in, rallies and demonstrations under the aegis of Joint Action Committee for Shia Missing Persons.
Families continue sit in protest outside mausoleum of founder of Pakistan
The protesters have condemned unconstitutionalism that the state security agencies are following regarding enforced disappearance.
Meanwhile, Allama Ahmed Iqbal Rizvi spoke at the Karachi sit-in protest.
He said they would prolong the ongoing protest until the victims get justice.
He further said that the transgression pose threat to the entire system of Pakistan as a nation-state and as a society, let alone state institutions.
Therefore, he advised the authorities concerned to obey the Constitution and refrain from violating Constitutional rights of the aforesaid illegal detainees.
Moreover, he said that Constitutional law requires the authorities concerned not to subjected these patriot Pakistani Shia Muslim citizens to enforced disappearance.
Allama Ahmed Iqbal said that if the authorities concerned have any charge against the victims of enforced disappearance, then they should produce them in courts of law for trial.
He said the authorities concerned should prove it respects and trusts judiciary of Pakistan.
Besides, the aforesaid accused must have an access to enjoy their legal right to defend them in the courts of law.
He said that families have right to know whereabouts of their relatives and they have right to meet them. He said that even the relatives of under trial prisoners and convicted prisoners regularly meet the detainees or jailed relatives as per law.
Meanwhile, Dr Farooq Sattar-led delegation visited the protest sit-in venue, along with some of his erstwhile comrades.
He had recently visited the sit-in protest and expressed solidarity with the legitimate demand for end to enforced disappearance.
Once again, he reiterated his support and emphasized the need for rule of law in this regard.
The protesting leaders and the families are referring to Constitutionally-guaranteed rights during their campaign.