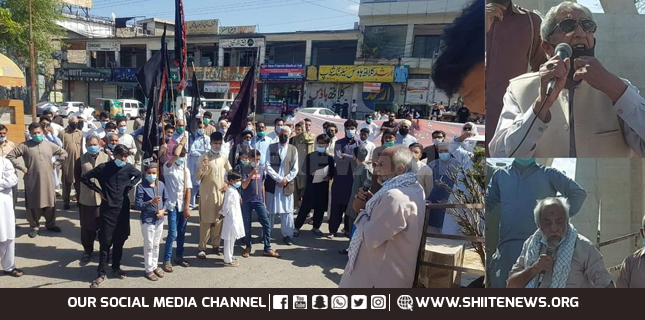 Mirpur AJK takfiri cleric fatwas with SSP support spark off Shia protest.
The district Mufti of Mirpur Azad Kashmir religious affairs department who gets salary from taxpayers' money have issued takfiri decrees and statements.
Mirpur AJK takfiri cleric fatwas with SSP support spark off Shia protest
Ironically, Senior Superintendent of Police Mirpur (AJK) also colluded with him instead of taking legal action against him.
This attack on the constitutionally-guaranteed rights of Shia Muslims compelled the Shia Islamic parties to come out on streets to protest.
Majlis-e-Wahdat-e-Muslimeen and Imamia Tanzeemat supporters took out a rally from Imam Bargah Baitul Ahzan.
That turned into a public meeting at Chowk Shaheehdan.
Maulana Hassan Kazmi spoke on the occasion. He slammed the nexus of the takfiri Mufti and SSP.
He said that the police officer (SSP) Mirpur should have taken action against takfiri decrees of the mufti; instead, he sided with him.
Therefore, the protesters also condemned the biased and discriminatory attitude of the SSP Mirpur also.
They demanded due action against the takfiri cleric (mufti).
Moreover, they made clear that they don't want to take into their hand. Therefore, they said nobody should consider peacefulness of Shia Muslims as weakness.
Meanwhile, their protest also aimed at expressing solidarity with the protest against enforced disappearance.
Kashmiri Shias announced support for legitimate demand to end enforced disappearance of patriot Pakistani Shia Muslims.
Meanwhile, Shia Islamic parties' leaders urged the state authorities to ensure protection fundamenal rights of Shias.
Particularly, they urged the state to ensure that Shia Muslim citizens of Pakistan have unimpeded access to their Constitutional rights.
On the other hand, main sit-in protest against enforced disappearance of innocent Shia Muslim citizens of Pakistan entered 9th day.
Families of Shia missing persons have been protesting at the sit-in camp outside mausoleum of founder of Pakistan Quaid-e-Azam Mohammad Ali Jinnah since Friday April 02.
On Friday, supporters of the committee held protest rallies and demonstrations from Karachi to Skardu.
Moreover, they demanded immediate release of all patriot Shias whom the agencies subjected to enforced disappearance.