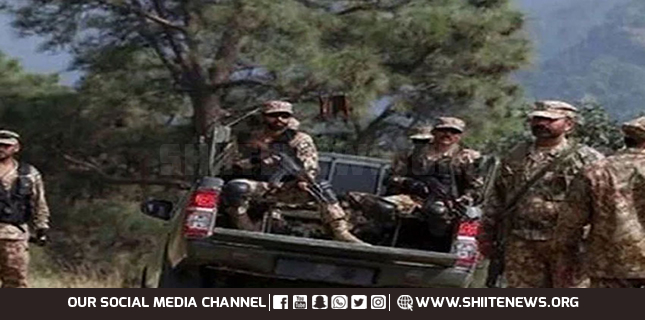 Three Taliban commanders among 8 terrorists killed in encounter in North Waziristan today.
The Security Forces on Saturday killed eight terrorists in two separate intelligence-based operations (IBOs).
Three Taliban commanders among 8 terrorists killed in encounter
According to an Inter Services Public Relations (ISPR) press release, three Tehreek-e-Taliban (TTP) commanders also lost lives.
Notably, security Forces had conducted two separate IBOs on terrorist hideouts in Boya and Dosalli areas of North Waziristan.
During exchange of fire, eight terrorists including three terrorist commanders dues.
They included Abdul Aneer alias Adil (TTP Toofan group), Junaid alias Jamid (TTP Tariq group) and Khaliq Shadeen alias Rehan (TTP Sadiq Noor group).
Meanwhile, ISPR said, the terrorists remained involved in terrorist activities against Security Forces, Law Enforcement Agencies and locals of the area since 2009.
Besides, they planted improvised explosive device (IED) attacks, targeted killing and kidnapped for ransom and extortion.
Moreover, the TTP terrorists also remained involved in recruiting terrorists in the area.
The Security Forces had also seized huge cache of arms from their hideouts.
Background of takfiri terrorism
Meanwhile, Pakistanis know outlawed Sipah Sahaba/ Lashkar Jhangvi as mother of all takfiri terrorism.
They say that as mother wing of outlawed terror outfit Lashkar-e-Jhangvi, Sipah Sahaba ASWJ terror group perpetrated terrorist attacks across Pakistan.
Aurangzeb Farooqui, his boss takfiri M A Ludhianvi, Muavia Azam, and their abettors continue to lead the outlawed terror group.
Moreover, Pakistanis know outlawed Sipah Sahaba takfiri terror group and its subsidiary Lashkar-e-Jhangvi as mother of all terrorism.
Sipah Sahaba also use other names such as ASWJ or Rah-e-Haq Party to continue their terror activities.
Apart from aforesaid thugs, Rab Nawaz Hanfi, Muavia Azam, Ramzan Mengal and some other thugs lead the terror group Sipah Sahaba.
They also worked as local franchise of global terrorist groups such as al-Qaida or ISIS Daesh.
These notorious terrorists have inflicted heavy human and financial losses upon Pakistan.