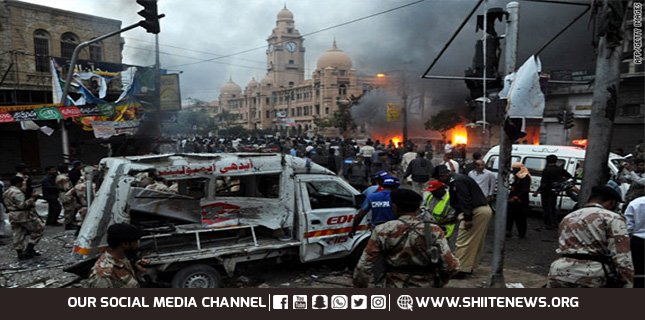 Shia Muslims observe Ashura 2009 bombing anniversary today in accordance with solar calendar.
However, the case file remains shelved in the court since Pakistan Rangers (Sindh) and Karachi police have failed to re-arrest three terrorists of outlawed outfit Jundullah.
Shia Muslims observe Ashura 2009 bombing anniversary
Karachi-based Shia Muslims specially lament lack of justice and multiplied grievances in this particular case.
The terrorists and their patrons had perpetrated that heinous crime against humanity under a deep-rooted conspiracy.
They had plotted to blame the victim Shia Muslim community through subsequent managed chaos.
Second part of the conspiracy include burglars who perpetrated their part of assigned job to defame Shia community.
Thank God, they failed in their nefarious designs although their bombing massacred more than 45 innocent Shia mourners.
Meanwhile, security forces had said the outlawed Jundullah group remained involved in the attack on Shia Muslims Ashura mourning procession.
But the culprits had escaped from their 'own' custody at the city courts.
However, the prosecutor general claims that all the four suspects, including the trio, who escaped from the custody, too lost lives in an encounter with the law-enforcers.