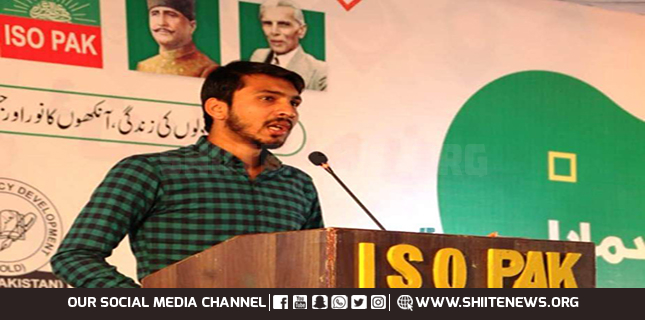 ISO Pakistan observes Ashra Quran and Khud Saazi that will culminate on 10th of Ramazan.
Imamia Students Organisation is arranging special programmes on Holy Quran and self-purification of followers of Quan according to Quranic teachings.
The vice president of the ISO Ali Zain elaborated the campaign while addressing a meeting of student organisation's central body.
ISO Pakistan observes Ashra Quran
He said that Ramazan remains a sacred month of Godly blessings. Specially, God's blessing culminates.
He said that they world broadcast scholars' lectures to ISO members through social media platforms.
Ali Zain said that ISO divided Ramazan into three Ashra. Notably Arabic word Ashra means 10 and as per Pakistani religious people's lexicon, Ashra means 10-day public campaign.
Therefore, ISO is observing Ashra Quran and Khud Saazi, Ashra Quran and Imamat and Ashra Quran and al Quds.
Central vice president ISO called for offering special prayers and supplication to seek God's blessing and mercy.
He expressed hope the entire world would get rid of Coronavirus pandemic shortly.
Shia Islamic parties pay special attention to the sacred month of Ramazan.
Notably, they hold special events to highlight message of Quran while also focusing on self-purification through fast, special prayers and supplications to God.