Lebonan
"STL Taking Wrong Direction, Hariri Can Prevent Hezbollah Accusation"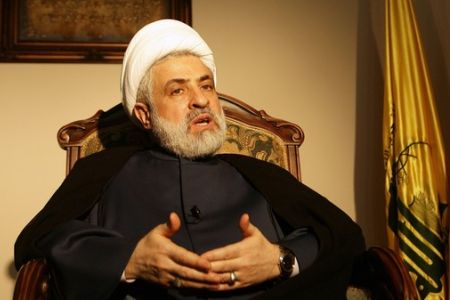 Hezbollah's Deputy Secretary General Sheikh Naim Qassem said Hezbollah won't take the initiative to the civil strife, but will put an end to it in appropriate ways. "Hezbollah would defend itself and the defense could be political or through the media," his eminence said.
In an interview on LBC television, Sheikh Qassem said that Hezbollah will wait for the tribunal's indictment on the assassination of former premier Martyr Rafiq Hariri to react, adding that Hezbollah Secretary General Sayyed Hassan Nasrallah's upcoming speech in a few weeks  will tackle the STL issue.
Sheikh Qassem noted that Hezbollah has not yet been informed of "the outcome of contacts conducted by the parties of the tripartite summit on the (Special Tribunal for Lebanon) indictment issue."
"Any indictment that accuses Hezbollah is an unjust indictment because we have nothing to do with this case whatsoever, and we even reject mere accusations," he added.
Hezbollah's secretary general appealed to Prime Minister Saad Hariri that he can exert his diplomatic and international efforts in order to reach the truth instead of an unjust accusation. "We have to be aware of political accusation because officials close to Hariri said that abolishing the political accusation doesn't overrule the judicial one."
"Why Israel wasn't accused despite the fact that we presented evidence to the Tribunal. Did it summon any of the Israelis or the Mossad for investigation?" Sheikh Qassem questioned.
Considering the party's relations with Syria, His eminence said: "Whoever is betting on a dispute between Hezbollah and Syria, or the possibility that Syria might use the party as a card to get certain gains, is deluded".
On German weekly Der Spiegel report, Sheikh Qassem expressed his belief that what was published "had aimed at testing Hezbollah's reaction so that they would be able to capitalize on such a reaction and close the holes in the indictment."
Concerning the false witnesses issue, Sheikh Qassem considered that "the natural solution is to start with false witnesses because all the sensory data have been drafted by black side that made the false witnesses. Lebanese sides fabricated the false witnesses file, but I will not name them to avoid any allegations that we're politically accusing."
"The Lebanese Information Branch fulfilled some achievements but some of its members gave wrong information to the international investigation probing the 2005 assassination of former Prime Minister Rafik Hariri, so we don't trust them," he said.
Sheikh Qassem accused the Lebanese Forces of stockpiling weapons and conducting military exercises, noting that Hezbollah possesses intelligence information in that regard.
On the possibility of an Israeli war against Lebanon, Sheikh Qassem said "if Israel entered south Lebanon we will break its legs, the resistance today is better than it was in July war."
Concerning the visit of Iranian president Mahmoud Ahmadinejad to Lebanon, his eminence said "there should be no embarrassment in the Iranian president official visit because Iran contributed in the reconstruction of Lebanon after the war and always stands side by side with Lebanon."