Lebonan
Syed Nasrallah, Qaraqira Vow to Compensate Victims, Stress Unity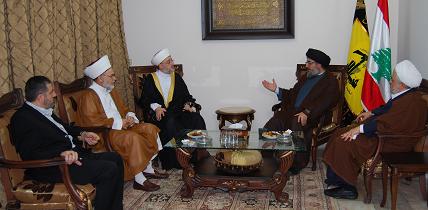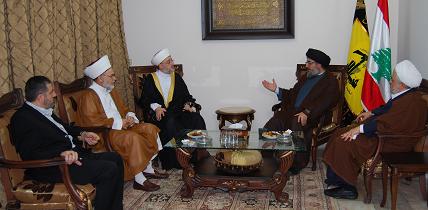 Hezbollah Secretary General Syed Hassan Nasrallah and leader of the Association of Islamic Charitable Projects Sheikh Hussam Qaraqira stressed in a meeting that last Tuesday individual clashes in Burj Abi Haidar "had no political background and were not sectarian."
A statement released by Hezbollah's media office said that Syed Nasrallah and Al-Ahbash leader agreed to take all measures necessary to  prevent the recurrence of similar deadly incidents and emphasized the importance of unity between Shia and Sunni.
Both leaders decided to form a joint committee to compensate for those who sustained damages during the clashes, it said.
The two sides also stressed the importance of the army's role in safeguarding security and vowed they would make efforts to help the investigation carried out by the Lebanese army into the clashes, according to the statement. They rejected verbal attacks and accusations against it.
As Safir newspaper quoted Hezbollah leadership sources as saying that in the first days of the clashes, the party tried to contain the negative stances against it. However, it realized that there was an organized campaign against it through the speeches and statements of March 14 officials, the sources said.
They told As Safir that Hariri did not deal with the incidents as a statesman rather than as the Future movement leader and the chief of a certain faction. The speeches that Hariri made during Iftar banquets in the past few days contradict with his own calls for calm, the sources said.
In a related development, Lebanese Armed Forces (LAF) Commander General Jean Kahwaji said the number of arrests linked to the clashes has risen to 10 not 4 as previously reported.
"What is required is that no one ignites a fire and then demand the army put it out," Kahwaji told As-Safir newspaper in comments published on Monday.
On Sunday, Hezbollah MP Mohammad Raad slammed those whom he said were exploiting the Borj Abi Haidar incident to promote sectarian strife in Beirut.
"Some people are insisting on making statements with slogans and incitement that only serve to fuel the fire of division and strife. These voices are not keen to protect society, the people or the state," Raad said.
"Tours of the areas where the clashes took place in Borj Abi Haidar aim to deepen division," Raad added, in reference to visits by Hariri and Grand Mufti Sheikh Mohammad Qabbani to Borj Abi Haidar.