Lebonan
Sayyed Nasrallah: We Won't Allow Anyone to Hurt the Resistance Dignity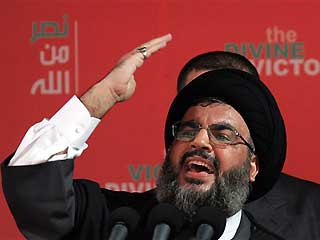 Hezbollah Secretary General Sayyed Hasan Nasrallah stressed on Sunday that its part would not allow anyone, whoever he was, to hurt the dignity of the resistance. This resistance, according to Sayyed Nasrallah, was able to crush the new Middle East plan in 2006.
Speaking in a ceremony honoring the martyr's children at Shahed Institution in Beirut's southern suburb, The Sayyed started his speech by paying tribute to the resistance martyrs.
"For 30 years, the martyrs have been the most important symbols of this country. They are the best victory makers of this nation. They protected its dignity and presence… We, as a resistance movement, have offered the most precious [of our sons]. My leader in the Resistance, Sayyed Abbas al-Moussawi and my brother in jihad, Imad Moghniyyeh, are the most precious people I have lost," his eminence said.
Sayyed Nasrallah added that with these sacrifices, the Resistance is the most precious of what we have, stressing that "we will not allow anyone in the world – small or big -to hurt its dignity."
Hezbollah Secretary General continued, "All plots that threatened Lebanon, Palestine and the region were stopped by the Resistance. The Resistance prevented the plot in 1982 and the one in 2000 that aimed to accomplish the project of [building a] greater Israel [by invading Lebanon]. In 2006, the Resistance put an end to the new Middle East project, which was highly funded. This Resistance made Lebanon in the heart of the regional equation after it was inferior. It made Lebanon a player."
His eminence stressed that the Resistance made Lebanon strong and that was why officials come to the country, adding that this Resistance was the reason that leaders meet Lebanese officials abroad.
Sayyed Nasrallah also thanked all people who helped the Resistance in Lebanon, from Iran to Syria to all honorable people, however, he stressed that the Resistance was the one that fought. He also said that unfortunately everyone, but some Lebanese, knows the value of this Resistance, including Lebanon's enemies who are planning to take it away.
"They may bargain on gas and oil but they can never bargain on the Resistance," his eminence stressed, adding that the war on the Resistance will continue, and (US Assistant Secretary of State for Near Eastern Affairs Jeffrey) Feltman himself admitted this before Congress.
Sayyed Nasrallah also said that the international community tried to bring the resistance power to an end in the 2006 July War and failed. "I will talk about this during the victory ceremony, which was postponed to August 3 upon President Michel Sleiman's request because he will receive prominent guests in Lebanon on July 30."