Lebonan
Sayyed Nasrallah Receives Mufti Qabbani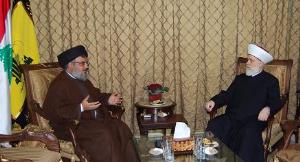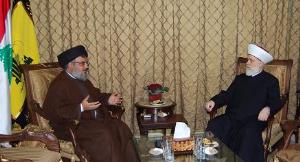 Hezbollah Secretary General Sayyed Hasan Nasrallah received Grand Mufti of the Lebanese Republic Sheikh Mohammad Rashid Qabbani who offered his condolences over the death of Grand Ayatollah Sayyed  Mohamad Hussein Fadlullah.
According to a statement released by Hezbollah media relations, both sides discussed the late cleric's glorious deeds and the big loss caused by his death to Lebanon and the nation.
They also discussed the latest developments in Lebanon and the region as well as the necessity to unify efforts to prevent those who seek division and sedition to achieve their objectives and plots which serve the interests of Lebanon and the nation's enemies.