Lebonan
Hezbollah Bids Farewell to Martyrs Hmede, Aff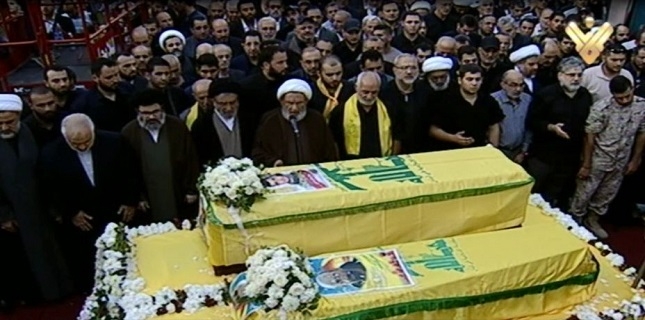 Hezbollah and crowds bade on Tuesday farewell to two of his martyrs, commander Hatem Hmede and mujahid Jalal Affe, in Beirut's Dahiyeh where they were laid to rest in Rawdat Shahidayn cemetery.
Commander Hmede and mujahid Affe embraced martyrdom while fighting the terrorist groups in Syria.
Hezbollah official Sheikh Mohammad Yazbek led the funeral prayers and the martyrs' corpses were greeted by a number of the Resistance fighters who stressed their determination to follow their path.
Head of Hezbollah executive council Sayyed Hashem Safieddine delivered a speech in which he stressed the Resistance's determination to pursue achieving victories despite all sacrifices.