Lebonan
Israel to benefit from hostilities in Palestine refugee camp: Sheikh Naim Qassem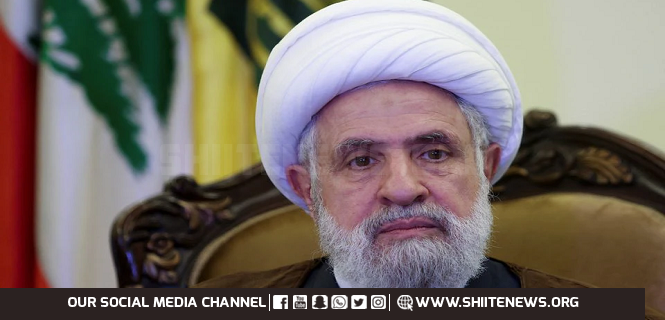 A high-ranking official with the Lebanese Resistance movement Hezbollah says that the Israeli regime is the only side to benefit from hostilities and clashes within Palestinian factions.
Hezbollah Deputy Secretary General Sheikh Naim Qassem said on Sunday that the armed clashes in the Ain al-Hilweh camp in southern Lebanon would lead to no victory and serve the regime's interests.
"We feel so much regret about the conflicts in Ain al-Hilweh because these clashes are between Palestinian brothers and have environmental effects," Qassem said.
"Undoubtedly, these incidents will not win any victory and none of the involved parties will benefit from them," he said. "These events are only in line with the interests of the occupying regime because the camps for refugees must be calm to prepare them to confront the enemy and prepare their return to their land after liberation; not for war and conflict."
Fresh clashes in the Palestinian refugee camp in the city of Sidon in southern Lebanon continued on Sunday for a fourth day. There has been no tangible result despite rigorous efforts to establish a ceasefire and end the conflict between the Palestinian groups.
Confrontations in Lebanon's largest Palestinian refugee camp have so far left five people dead and dozens injured.
The UN agency for Palestinian refugees, UNRWA, said over 2,000 people were forced to flee since the beginning of the clashes in the camp in late July, which involved heavy weaponry.
The violence erupted in the refugee camp when an unknown gunman attempted to kill a member of an armed group named Mahmoud Khalil, but fatally shot his companion instead. In the confrontations that ensued, Abu Ashraf al-Armouchi, a senior commander with the Palestinian Fatah Party, who was in charge of security inside Ain al-Hilweh, was killed along with several of his aides.
Local media reports said many terrorists and extremists had infiltrated the camp, targeting Fatah members and trying to create chaos.
A ceasefire subsided the fighting but heavy confrontations sporadically resumed afterwards.
Ain al-Hilweh camp was established in 1948 to house Palestinians displaced by Israeli forces during Nakba Day or "Day of Catastrophe," when the Tel Aviv regime was created at the expense of the forced expulsion of hundreds of thousands of Palestinians from their homeland.
According to the UNRWA, more than 63,000 people live in the camp.