Lebonan
Zionists in Panic after Sayyed Nasrallah Warning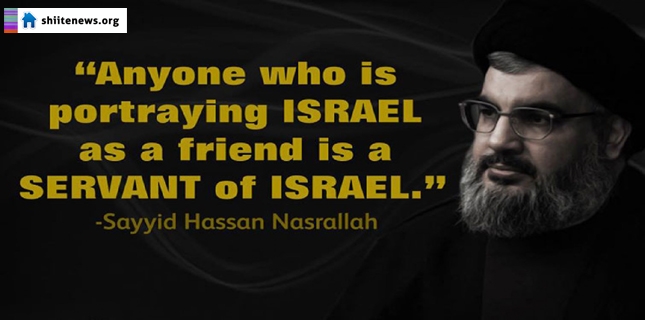 A state of panic gripped Israeli northern towns as the Jewish braced itself for a possible Hezbollah reprisal over last week's airstrike that martyred six Hezbollah's fighters and a senior Iranian general in Syria's Golan Heights.
Israeli forces were placed on high security alert following rumors spread that gunmen were spotted sneaking into Israel from Lebanon, prompting Israeli authorities to ask residents in towns near the border to stay indoors.
TV footage showed Israeli police and security forces deployed heavily in towns near the border with Lebanon, manning checkpoints and trying to calm jittery citizens.
An Israeli citizen, interviewed by MTV, complained that most Jewish settlements near the border with Lebanon have been closed as Israel prepared the population for a retaliatory action by Hezbollah for the martyrdomof one its field commanders, the son of martyred commander Imad Mughniyeh, and four other fighters in the Israeli raid that targeted a Hezbollah convoy in the Syrian town of Qunaitra last Sunday.
A top Iranian Revolutionary Guard commander was also martyred in the raid.
Reflecting tension over a possible Hezbollah retaliation, Israeli tanks were witnessed taking up new positions along Lebanon's southeastern border Wednesday, as UN peacekeepers and Lebanese army troops boosted their patrols in the area.
"Five Israeli tanks repositioned from the Riaq [military outpost] to the highlands southeast of the Metula settlement," a security source told The Daily Star.
Helicopters belonging to the UN Interim Force in Lebanon were seen carrying out their routine reconnaissance flights over the Blue Line as a number of shepherds reported seeing Israeli military vehicles and flashing lights across the border.
Residents of the Lebanese village of Kfar Kila facing the Metula settlement also reported hearing rumbles of Israeli vehicles positioning in the valleys south of Metula.
"We have spotted the movements in addition to the high overflights of Israeli military aircraft in most of the Lebanese southern airspace," a UNIFIL officer told The Daily Star.
Hezbollah's silence on its possible response to the Qunaitra raid has kept Israel on edge. Israeli media have reported that the Jewish army is bolstering its forces along the border in anticipation of a retaliatory attack.
Zionist officials told the Associated Press that the army has boosted deployment of its "Iron Dome" aerial defense system along its northern frontier with Lebanon, and has increased surveillance in the area.
Meanwhile, Iran vowed to avenge the martyrdome of a Revolutionary Guard general who was killed in the Qunaitra raid.Thousands gathered Wednesday in Tehran at a funeral procession for Gen. Mohammad Ali Allahdadi, a day after his commander warned the Jewish state it should await "ruinous thunderbolts."
"The path of martyr Allahdadi is unstoppable and will be continued until the liberation of the Holy Quds [Jerusalem] and obliteration of the Zionist regime," Guard commander Major General Ali Jaafari said at a ceremony at the base, according to the official IRNA news agency.
One day after attack Hezbollah Secretary General Sayyed Hasan Nasrallah asserted that the Islamic Resistance in Lebanon is ready to accomplish the greatest victory in case of a new Zionist aggression in Lebanon,according to Almanar TV website.
Almanar posted in Sayyed Hasan Nasrallah photo's captioned by two word which its English translation is "Time to Prepare your shelters!"