Lebonan
Lebanese PM Welcomes Iran's Aid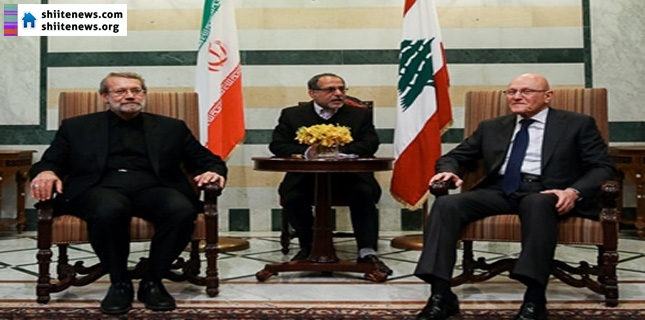 Lebanese Prime Minister Tamam Salam in a meeting with Iranian Parliament Speaker Ali Larijani in Beirut on Monday said Lebanon and other regional nations are happy to receive Iran's aid and assistance.
"Iran does not just belong to one Lebanese group, rather Iran's power belongs to all groups," the Lebanese premier stressed.
During the meeting in the Lebanese capital today, Larijani and Salam exchanged views on the latest regional developments, specially the threat of Takfiri terrorism.
Salam stressed that campaign against terrorism needs extensive efforts, "because Takfiri groups have no respect for any principle and merely know how to kill".
He said there is a very tight rivalry between the Al-Qaeda offshoot, the Nusra Front, and the Islamic State of Iraq and the Levant (ISIL), and lamented that these are the regional nations who are paying the price.
Larijani, for his part, praised the success of the Lebanese army in its fight against Takfiri terrorists, and said, "Iran knew since the very beginning that the support rendered to the terrorist groups by certain regional states would grow into a major dilemma for the region."
He further reiterated Tehran's support for unity in Lebanon, and hailed the political talks among the Lebanese groups for selecting a president for the country.
Meanwhile, the speaker underscored Iran's interest in developing economic ties with Beirut, saying Tehran is ready to provide Lebanon with aids and assistance in various fields, such as the power, oil and gas sectors.
Larijani is on a regional tour of Syria, Lebanon and Iraq. He arrived in Beirut on Sunday night to confer on the latest developments in the region following a daylong trip to Syria where he met with senior Damascus officials, including the president, parliament speaker and prime minister.
Iran and Lebanon enjoy cordial relations and have further expanded these ties in recent years.
The two sides have exchanged several delegations of high-ranking officials in the last three years.