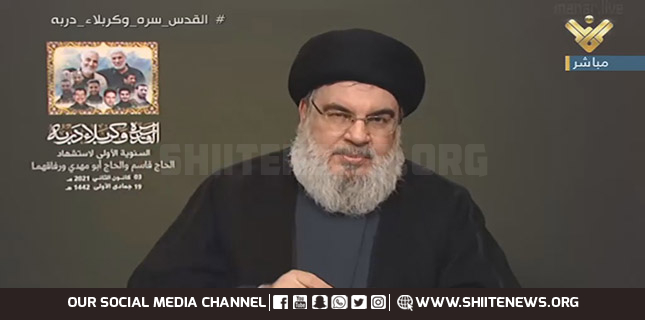 Hasan Nasrallah lauds Iran and Syria support against Israeli aggression and occupation.
Hezbollah Secretary General Sayyed Hasan Nasrallah shared facts regarding strong defence during a televised speech on Sunday.
Hasan Nasrallah lauds Iran and Syria support against Israeli aggression
First, he said that the Resistance protects Lebanon and preserves its sovereignty and natural resources.
Second, he said that mainly Iran and Syria provided the military capabilities of the Resistance.
Therefore, he urged all the Lebanese to admit this fact and thank those who have supported Lebanon in face of the Israeli occupation and aggression.
Sayyed Nasrallah's speech marked the anniversary of the assassination of General Qassem Suleimani, the former Commander of IRGC's Quds Force.
U.S. military assassinated him on January 3, 2020, in an illegal US drone attack. The former Head of Iraq's Hashd Shaabi Committee, Abu Mahdi Al-Muhandis and other comrades also embraced martyrdom alongside Haj Qassem.
Sayyed Hassan also spoke on regional developments.
He said that since the Pentagon assassinated Iran's popular anti-terror commander Lieutenant General Qassem Soleimani and his companions in January 2020, region has been reverberating the growing calls for the expulsion of US forces from the region.
Resistance more determined and strong-minded to assert legitimate rights
He underlined this the only one of the repercussions of the cowardly U.S. act of terror.
Lebanon's resistance movement Hezbollah leader recalled such calls had not come prior to the assassination.
Furthermore, he noted the martyrdom of the resistance leaders set US troops on the track of leaving Iraq.
The Hezbollah leader hailed General Soleimani as a hero and an international icon of sacrifice, loyalty and defending the oppressed.
Nasrallah then addressed the United States, the Israeli regime and all those conspiring against the resistance front and said:  "When you assassinate our leaders, we get more determined and strong-minded to assert our rights."