Iraq
17.5 million pilgrims in Karbala for Arba'een: Iraq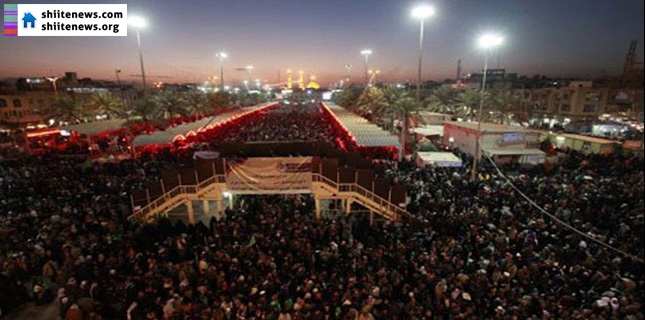 The number of pilgrims attending mourning rituals of Arba'een, which marks 40th days after the anniversary of the martyrdom of the third Shia Imam, has reached a record 17.5 million in the central Iraqi city of Karbala, says an Iraqi official.
Arba'een, which in Arabic means forty, falls on December 13 this year and marks 40 days after the anniversary of the martyrdom of Imam Hussein (PBUH), the grandson of the Prophet Muhammad (PBUH).
"The number of Arab and foreign pilgrims has reached 4.5 million, of 60 different nationalities, the biggest contingent being Iranians," Iraqi Defense Minister Khaled al-Obeidi said Thursday, adding, "And until today, we had 13 million Iraqis."
Iraqi officials announced last week that in excess of one million Iranians, which is the largest number on record, have crossed the border to attend the ceremony in Karbala this year.
Aqil al-Turaihi, the governor of Karbala, has said that the city is witnessing the largest attendance of pilgrims ever.
"This is the biggest. It's exceptional because the pilgrims consider this as an act of defiance in the face of the terrorist gangs of Daesh," al-Turaihi said, using the Arabic name of the ISIL Takfiri group.
The Iraqi defense minister also said that Iraq has intensified security in Karbala and has opened new access routes to the city. Karbala is a medium-sized city about 70 kilometres (45 miles) south of the capital, Baghdad.
Iraqi forces secured a major victory against the Takfiri militants in the Jurf al-Sakhr area between Karbala and Baghdad a few weeks ago.
"The victories obtained here have had a great impact on the march" of the pilgrims, Communications Minister Hassan al-Rashed, who is also a commander in the Badr organization, said on Wednesday.
Badr organization is an official Iraqi political party whose military wing is one of the largest militias in the country.
Imam Hussein and 72 of his loyal companions, including family members, were martyred on Ashura, the tenth day of the lunar month of Muharram, in the battle of Karbala against the second Umayyad caliph, Yazid I, in 680 A.D. Imam Hussein was killed after he refused to pledge allegiance to the tyrant ruler.