Iran
UK must take practical steps to pay off debt to Iran: Defense minister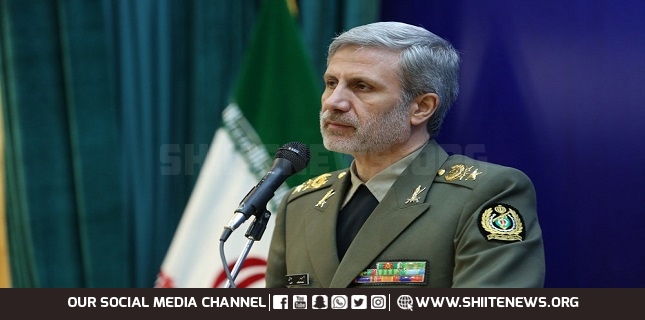 Iran's Defense Minister Brigadier General Amir Hatami says Britain must take practical steps to pay off its standing debt to Iran.
Hatami made the remark following recent statements by his British counterpart, Ben Wallace, who told Times Radio that it was "absolutely right" that "we should honor" the country's debt, which is estimated to be as much as £400 million ($551 million), arising from the non-delivery of tanks ordered by Iran's ousted monarch Mohammad Reza Pahlavi.
"Although Ben Wallace, the British secretary of defense, has reiterated the need to clear the payments of military agreements between the two sides and the need to pay the debt to the Islamic Republic of Iran after 42 years, there is always a gap between the British authorities' position and practical will," Hatami said on Tuesday.
Referring to court rulings and contractual obligations, Hatami said the restrictions arising from the United States' "unjust" sanctions imposed on Tehran were not the main reason for the UK's failure to pay off the debt.
The Iranian minister stressed that the British government should settle the issue through mechanisms previously discussed during talks between the two countries.
International Military Services (IMS), a subsidiary of the British Ministry of Defense, signed contracts in 1971 to sell more than 1,750 Chieftain tanks and armored vehicles to Iran. The deals were canceled after Pahlavi was deposed in the 1979 Islamic Revolution, but Iran had already paid for the undelivered tanks and demanded its money back.
An international arbitration in 2008 ruled that the UK owed the debt, but it has not been paid off yet.
Last September, Iran's Defense Ministry denied any link between the case and the issue of Nazanin Zaghari-Ratcliffe, who was arrested for spying in 2016.
Zaghari-Ratcliffe was put on trial and handed a five-year jail term after being found guilty of spying and spreading propaganda against the Islamic Republic.
Western media sources have claimed that she used to work for the Thomson Reuters Foundation and was on vacation in Iran when she was arrested. Some of the same outlets have also been trying to establish a link between her case and the issue of the British debt.