Iran
Iran will not allow US, Zionist forces in region to Show off Power: General Bagheri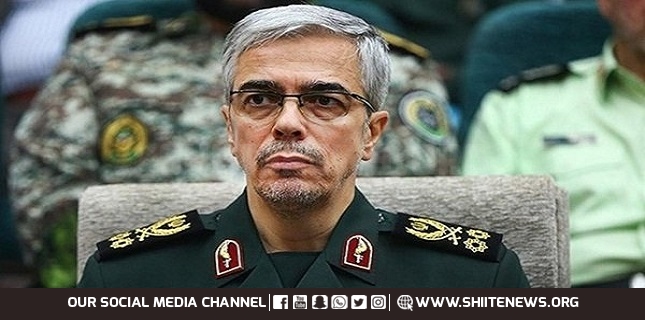 Iranian Chief of Staff, Major General Mohammad Bagheri, said that the Iranian armed forces will not allow US, Zionist and reactionary agents in the region to show off their strength and implement their conspiracy plans in the country.
In a statement marking the tenth anniversary of the epic of December 30, Major General Bagheri added: "The capable armed forces of the Islamic Republic of Iran are in unparalleled synergy and alignment with the National Intelligence."
He stressed that any miscalculation and adventure of the evil triangle represented by US, the Israeli enemy and reactionary regimes in the region will face a resolute and decisive response that makes them regret their actions.
He continued by saying "There is no doubt in the current circumstances where the enemy front feels the centrality of America and the fake Zionist entity, frustration, confusion and excitement because of the denial defeat of the plot of sedition and sparking the recent riots in last November, trying by tightening the increase of the embargo measures and pressure to achieve their diabolical goals."
He pointed out that the hostile forces are trying to implement their conspiracy schemes by pursuing the strategy of spreading despair and forcing the people to rebel against Islamic rule, using media propaganda and new and old satellite channels, opposing sites and distorted propaganda campaigns, providing malicious analyzes, overturning facts, hiding promising results and denying indisputable virtues .
Bagheri stressed that the Iranian armed forces, under the guidance of the leader of the Islamic Revolution, Commander-in-Chief of the Armed Forces, Sayyed Khamenei, and through its synergy and comprehensive monitoring of the enemy's front movements, will not allow American and Zionist and reactionary agents in the region to implement their conspiracy plans in the country.