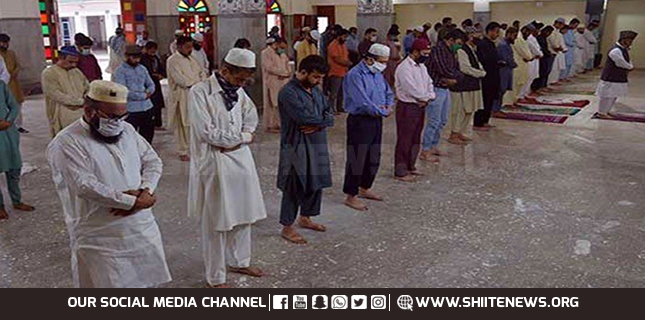 Why ban on Shia Islamic rituals while other congregations allowed?
Government needs to revisit selective ban on azadari congregations because of its discriminatory nature and unfairness.
People of Pakistan and particularly of Sindh province take Coronavirus related precautionary measures seriously.
But sorry to remind the fact that people across the country and notably in Sindh province see huge public gathering these days.
Why ban on Shia Islamic rituals
Ludicrously, Sindh Home Department notification mentioned non-obligatory nature of some religious gatherings. Do they know Taraweeh prayers are also not obligatory prayers.
Sunni Muslims unanimously recognized non-obligatory nature of Taraweeh or taraveeh prayers and such prayers in congregations.
When the government has allowed Taraweeh prayers in mosques and people also see violation of Covid-19 precautionary measures during Taraweeh prayers.
Let alone Taraweeh prayers, people see huge gatherings in mosques during daily congregational prayers. They line up closely and violate the discipline and precautionary measures daily.
Meanwhile, people also gather to get aid under various government schemes such as Ehsaas Emergency Cash Programme. They also gather to get food ration which NGOs/charity organisation or philanthropists give them.
We can give many examples of violation of precautionary measures which we witness ourselves in our surroundings.
Keeping in view ground realities and comparison with other congregations such as non-obligatory taraveeh prayers, one may note unjustifiability and bias in the Sindh government's notification.
Yaume-e-Ali can be observed with social distancing requirement
Logically speaking, one may observe precautionary measures during azadari (sacred religious mourning) congregations but none can follow precautionary measures regarding Coronavirus during congregational prayers.
Because, distance between namazis negate the requirements of congregational prayers. That means Muslims cannot offer en bloc or collective congregational prayers behind prayers leaders.
First, Sindh government, Ulema, mosques management and namazis must know that they cannot meet congregational prayers' requirements if they observe precautionary measures regarding the Coronavirus pandemic.
Specially, the government and the Deobandis should read the viewpoint of Darul Ifta of Darul Uloom Deoband regarding namaz ba jamaat or en bloc congregational prayers.
Second, even holding the obligatory prayers with en bloc participation is itself highly recommended but not obligatory. Some may attach relatively more emphasis on en bloc offering of obligatory prayers.
But Muslims know well that one may also offer obligatory prayers individually and none can declare him sinful for not offering en bloc congregational prayers. As simple as it is.
Furthermore, Jamia tul Uloom ul Islamia of (the late) Allama Mohammad Yousuf Binouri has decreed on offering congregational prayers while observing social distancing.
That means government has allowed non-obligatory congregations because it is not obligatory to offer obligatory prayers en bloc. Second, namaz taraveeh itself is not obligatory but government has allowed it.
So, government cannot ban Yaum-e-Ali congregations or processions while allowing congregational prayers such as taraveeh or other prayer.
However, Shia Islamic scholars and leaders of various parties and organizers and hosts of azadari rituals should come forward.
Government needs to revisit selective ban
They must clarify these factual aspects of the matter. They assure the government and must ensure implementation of precautionary measures during majalis (congregations) and juloos (rallies/processions).
Shia Muslims observe sacred religious mourn to mark martyrdom anniversary of Imam Ali whom Sunnis revere as divinely-guided caliph (ruler) Hazrat Ali.
Government should take right decision instead of discriminatory and illogical selective ban on Shia Islamic rituals. Again, it remains obligatory on the organisers of such events to ensure social distancing during these rituals such as Yaum-e-Ali.