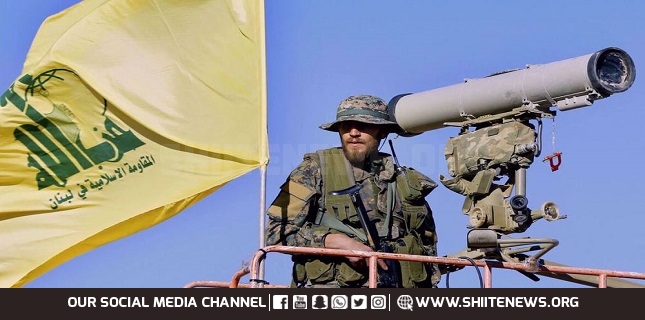 Fighters from the Lebanese resistance movement Hezbollah have intercepted and shot down an Israeli unmanned aerial vehicle while it was hovering over an area in southern part of Lebanon close to the border between the Arab country and the 1948 Israeli-occupied territories.
Hezbollah said in a brief statement carried by Lebanon's Arabic-language al-Manar television network that it downed an Israeli Elbit Hermes 450 unmanned aerial vehicle early on Saturday morning.
The statement added the Israeli aircraft was brought down with a surface-to-air missile, and it fell in the Galilee Panhandle area in the northern sector of the Israeli-occupied lands.
The development came hours after Israeli warplanes and artillery units struck the outskirts of the Lebanese border towns of al-Jebbayn, al-Labbouneh, Aitaroun, Yarine, Dhaira, Mays al-Jabal, Blida Houla, Tayr Harfa, Aita al-Shaab, Rab Tlatine, al-Taybe, Rmeish, and Wadi Mozlem.
Israel had overnight shelled al-Naqoura, Blida, al-Khiam, Borj al-Moulouk, Kfarshouba, and Kfarhamam areas with heavy and flare shells.
Hezbollah, for its part, targeted a group of Israeli soldiers near al-Taihat and other groups of soldiers near al-Marj post, the Ramim barracks, al-Dhaira, and Yir'on, inflicting casualties. It also targeted the Malkia post.
Israeli medics later announced that they transported four wounded Israeli soldiers from the Manara post, one of whom was critically wounded.
Hezbollah has warned that it will join the Palestinian resistance group Hamas and its allies in the fight against Israel if the regime escalates its aggression on Gaza and in case foreign military forces intervene to help the Israeli regime in the battle.
Hezbollah's Secretary General Sayyed Hassan Nasrallah said on November 2 that the Lebanese resistance movement entered the battle against Israel on October 8, a day after Gaza-based Palestinian resistance movements launched their surprise attack, Operation al-Aqsa Storm, against the regime.
Nasrallah said the daily exchange of fire with Israeli forces along the Lebanese border might seem modest but is of prime significance, calling the confrontations unprecedented since 1948.