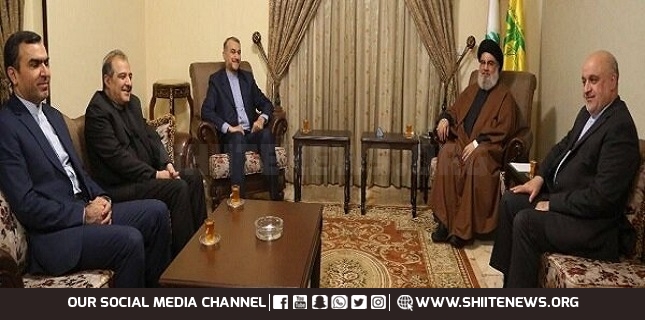 Iranian Foreign Minister Hossein Amir-Abdollahian and the Secretary-General of Lebanese Hezbollah Seyyed Hassan Nasrallah held talks in Beirut.
During the meeting, the latest developments and political situation in Lebanon, Palestine and regional and international developments were discussed.
Earlier on Friday, Amir-Abdollahian held separate meetings with Lebanese Foreign Minister Abdallah Bou Habib, Prime Minister Najib Mikati, Parliament Speaker Nabih Berry, and the Secretary-General of the Islamic Jihad Movement of Palestine Ziyad al-Nakhalah.
Iranian foreign minister arrived in Beirut late Thursday at the official invitation of his Lebanese counterpart.
Upon his arrival, he stressed that the strong support of the Islamic Republic of Iran for Lebanon continues like in the past. "The Islamic Republic of Iran will mightily continue its support for the Lebanese people, government, and Resistance forces."