Yemen
Saudi Airstrikes on Yemen Continue Unabated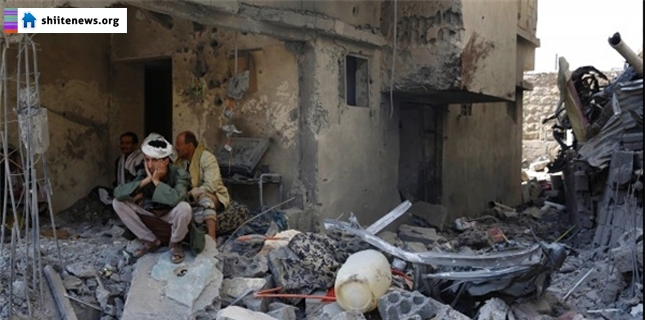 Saudi fighter jets continued bombing residential areas in the Yemeni Province of Ta'iz on Monday.
The airstrikes hit Jahmaliya district in Ta'iz province. There were no immediate reports of possible casualties.
On Friday, Saudi warplanes have continued their airstrikes against areas across Yemen, killing at least 115 people in the province of al-Hudaydah.
According to reports, the people were killed after the Saudi fighter jets pounded a number of islands, including Uqban and Kamaran, in the Red Sea.
The Saudi warplanes reportedly launched over 20 sorties on the islands.
Repots also said the Saudi warplanes targeted a number of fishing boats in the area and prevented them from providing aid for the people on the targeted islands.
Saudi airstrikes also hit residential areas in the province of Sa'ada, killing at least 11 people and injuring two others in the district of Haydan.
A gas station and some shopping centers were reportedly targeted in the Saudi air attacks on the district as well.
The Persian Gulf kingdom also bombed residential areas in the district of Bani Hashish in the province, killing at least two children. Saudi attacks were reported in other districts of the province, including Baqim and Kattaf.
Meanwhile, Saudi fighter jets also pounded the district of Bayhan in Shabwah province, killing at least three civilians.
Meanwhile, Saudi Arabia targeted a market in the province of Hajjah, causing the death of eight civilians and wounding at least 20 others.
Witnesses also confirmed that Saudi fighters targeted the power plant and pylons in the district of Abs in Hajjah.
Earlier on Friday, Saudi warplanes launched a series of attacks in the al-Sawadiyah district of Bayda Province. There was no immediate report on possible casualties.
On Thursday, a dozen people were killed in airstrikes across Yemen. According to al-Masirah, at least 10 Yemeni fishermen were killed after Saudi warplanes bombed their boats off the Western coast of the Uqban island.
On Wednesday, the International Committee of the Red Cross said that Saudi warplanes had targeted residential areas in Ta'iz, killing at least 22 people and wounding 140 others.
Saudi Arabia has been striking Yemen for 215 days now to restore power to fugitive president Mansour Hadi, a close ally of Riyadh. The Saudi-led aggression has so far killed at least 6,864 Yemenis, including hundreds of women and children.
Hadi stepped down in January and refused to reconsider the decision despite calls by Ansarullah revolutionaries of the Houthi movement.
Despite Riyadh's claims that it is bombing the positions of the Ansarullah fighters, Saudi warplanes are flattening residential areas and civilian infrastructures.